On the Campaign Trail With Roy Moore and His Supporters
By
Polls show some female voters shift to Democratic candidate

Moore denies report of inappripriate relations with teenagers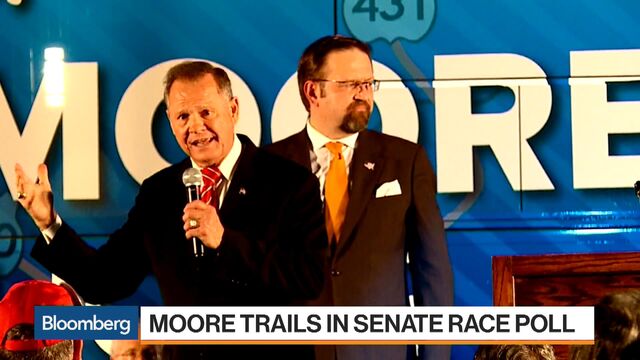 Sallie Bryant is sticking with Roy Moore. Like many of the hard-core supporters of the embattled U.S. Senate candidate, the chairwoman of the Jefferson County, Alabama, Republican party says she believes Moore's denials of allegations he had inappropriate relationships with teenage girls when he was in his 30s. And she suspects the accusations are a political ploy concocted to block his election.
"The timing of it is a little bit suspicious," Bryant, whose county includes Birmingham, said after a standing-room-only Moore rally on Saturday. "It's a political event and that's why they did what they did."
Bryant is the kind of voter -- a Republican woman -- whose support is vital if Moore is to prevail in a Dec. 12 special election to fill a seat vacated by Attorney General Jeff Sessions. But there are signs at least some of them are slipping away. Polls of likely voters conducted over the last several days show his once solid lead over Democrat Doug Jones has evaporated as female voters shift away from him.
Moore has flatly denied a report in the Washington Post on Thursday that he initiated a sexual encounter with a 14-year-old girl in the late 1970s when he was 32 and an assistant district attorney. The Post also cited three women who said Moore pursued relationships with them when they were between the ages of 16 and 18 around the same time, and Moore said in an interview on Sean Hannity' radio program he couldn't rule out having dated teenagers.
Although some national Republican lawmakers called on Moore to drop out after the Washington Post report, Alabama GOP leaders like Bryant are rallying around their candidate.
Moore Defiant
Moore isn't backing down either. During a Veteran's Day breakfast on Saturday, in a cramped meeting room at the Vestavia Hills Public Library, outside Birmingham, Moore called the allegations "a prime example of fake news" and said that in coming days there will be "revelations" about the motivations and content of the charges.
"To think that grown women would wait 40 years to come forward right before an election to bring charges is absolutely unbelievable," Moore said, drawing applause from the audience, which included dozens of Republicans and party officials wearing Moore stickers. Outside there were a handful of Democratic protesters outside holding signs with messages like "Grabby Old Pervert" and "#NoMoore." 
Republican Dilemma
The revelations have upended what otherwise might have been an easy contest for Moore, 70, to win in a solidly Republican state. Now Moore, a former chief justice of the state Supreme Court, has the national party in a difficult position: He could win and taint the party in advance of 2018 congressional elections. Or he could lose and turn over a seat long held by Republicans to Democrats, leaving the GOP with a one-vote majority in the Senate and imperiling their ability to deliver on promises to voters.
Senate Majority Leader Mitch McConnell, speaking in his home state of Kentucky on Monday, said Moore should step aside and that a write-in campaign for an alternate GOP candidate is a possibility. "I believe the women," McConnell told reporters.
Moore's support in Alabama hasn't collapsed, but it's weakened. Polls from Atlanta-based Opinion Savvy and Louisiana-based JMC Analytics, conducted after the Washington Post report, show that support for Moore has dropped with women, who make up the majority of Alabama voters, and Evangelicals. One of the surveys showed the candidates tied and the other had Jones narrowly ahead but within the margin of error.
Still, there are plenty of Republican women who echo Moore's response to the accusations.
Debbie Harrelson, a 61-year-old medical representative from Hoover, Alabama, said the allegations fall into a suspicious pattern of the news media reporting charges from women impugning the character of conservatives.
"It's too long ago, it's a he said she said," Harrelson said before the Saturday breakfast of coffee and donuts. "He's had forty years of service to the state of Alabama and he's proven himself to me so I don't care."
'Good for You'
When Moore arrived at the event, trailed by reporters asking about the accusations, Harrelson cheered him and said, "Good for you."
Supporters of President Donald Trump, who had endorsed Republican Luther Strange in a Republican runoff election for the Senate seat, also came to Moore's defense.
"Where have they been?" Perry Hooper Jr., a co-chair of Trump's Alabama campaign who endorsed Luther Strange in the primary, said of the women accusing Moore. "Maybe they should be required to take a polygraph test to find out if they really are telling the truth."
National Republicans have few options to block Moore. Alabama Governor Kay Ivey, a Republican, rejected calls to delay the election in hopes of convincing Moore to withdraw or launching a credible write-in campaign.
Splitting Votes
Ivey "is not considering and has no plans to move the special election for U.S. Senate," according to her spokesman, Daniel Sparkman. And while Strange has said he's exploring the possibility of a write-in campaign, polls show that would likely split the vote.
"As long as Moore is on the ballot, I don't think that there's any way that Strange could pull that off," said Matthew Towery, a pollster with Opinion Savvy. "That would definitely hand the seat over to Jones."
The challenge for Jones is to increase turnout among Republican women who are rejecting Moore without appearing to capitalize on the sexual abuse allegations.
"They need to identify these voters and get them to the polls," said Jennifer Duffy, a political analyst at the nonpartisan Cook Political Report. "Find those disaffected Republicans and get them there."
In Vestavia Hills, Democrats were energized at the Moore event.
Elizabeth Shannon, a 60-year-old retired video editor from Mountain Brook, Alabama, who supports Jones, held up a picture of herself when she was 14 years old. She said the accusations against Moore rang true at a time when women are coming forward to publicly report sexual harassment or assault against well-known men.
"We're all feeling supported by each other, that it's OK, that it wasn't our fault," she said.
Before it's here, it's on the Bloomberg Terminal.
LEARN MORE