Merkel Faces Make-or-Break Week in Talks to Form Government
By
Greens warn of failure should parties refuse to compromise

Collapse of four-way talks could trigger risky new election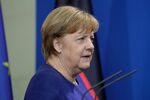 German Chancellor Angela Merkel entered the final stretch of preliminary talks to form a new government on Monday as factions in the complex multi-party negotiations remain far apart on issues including migration, climate and Europe.
Starting a fifth week of exploratory negotiations between Merkel's Christian Democrats, her Bavarian CSU sister party, the pro-market Free Democrats and the environmental Greens, the parties face a self-imposed deadline of Thursday to wrap the talks. The Greens over the weekend warned the process could collapse, raising the prospect of an unprecedented minority government or a repeat election.
Merkel has maintained a low profile after emerging victorious but weakened in the Sept. 24 election, focusing on forging a four-way coalition for the first time in the 68-year history of the federal republic. Although talks have made progress on education spending and digital infrastructure, the parties have struggled to find a common line on Germany's refugee crisis and the country's climate goals.
Negotiators ended talks in Berlin on Monday without an official statement. Horst Seehofer, the Bavarian premier who leads the CSU, said the parties had made progress and that disputes were resolvable. Katrin Goering-Eckardt, a Greens co-leader, said no progress was made on climate policy on Monday.
"We have four days to resolve a lot of differences," Seehofer told reporters as he exited the talks. He said he planned to meet with Merkel's team in the evening to narrow differences.
Officials aim to establish a written preliminary agreement, which the Greens plan to put to a party conference vote on Nov. 25. That's viewed as the main obstacle before the groups reconvene for official coalition talks, during which they'll draw up a blueprint for the next four years.
'Little Movement'
"Until now we've seen little movement among the others -- I think it's clear that time is running out and we now need results," Green co-leader Cem Oezdemir told Deutschlandfunk radio early Monday. Juergen Trittin, the veteran former Green environment minister, told Tagesspiegel that "not a single point from our 10-point plan has been implemented -- for the Greens, the score is zero-to-10."
The Social Democrats, who suffered their worst electoral defeat since World War II, have vowed not to form a coalition with Merkel's bloc. Should the multi-party talks fail, that leaves open the option of a minority government -- also without precedent in postwar history -- or new elections, a risky prospect given the rise of the far-right Alternative for Germany, which won 12.6 percent in September.
The Greens last week softened their demand for a phaseout of CO2-producing coal and an end to the sale of new combustion engines by 2030. But they've demanded a concrete plan for Germany to achieve its now-ambitious CO2 reduction goals as well as its commitments as part of the global Paris accord.
Merkel over the weekend said in a video podcast that achieving climate goals was crucial, but mustn't endanger German industry and jobs.
'More Optimistic'
The Free Democrats, meanwhile, backed off the party's demand to phase out the European bailout fund. But the party has stepped up calls for tax cuts, particularly by winding down within this legislative period the so-called solidarity charge, designed to help fund infrastructure in the formerly communist east.
Free Democrat Chairman Christian Lindner said last week's compromises between the FDP and Greens "made us more optimistic in terms of success this week."
"Now we're looking to see if there's any movement" within Merkel's bloc, Lindner told reporters before the meeting.
The most difficult stumbling block may be migration, two years since more than a million asylum seekers made their way into Germany. Merkel's bloc has insisted on limits to migration and speedier deportations for rejected asylum seekers. The Greens have insisted on refugees' rights to family reunions and rejected expanding a list of safe-origin countries to Maghreb states in northern Africa.
Alexander Dobrindt, the CSU's parliamentary caucus leader, took a hard line on family reunions. Asked whether the Bavarians were willing to compromise, he told broadcaster ARD, "No."
"We want a limit on migration," Dobrindt said, citing an agreement with Merkel's party that seeks a soft cap of 200,000 migrants a year into Germany. "That's what's on the table and that's what we'll implement."
Before it's here, it's on the Bloomberg Terminal.
LEARN MORE