Menendez Judge Tells Jury to Keep Trying After Deadlock Note
By and
Jurors say they can't reach unanimous verdict on 18 counts

Deadlock could produce mistrial nine weeks after case began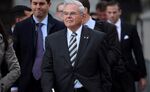 Jurors in the corruption trial of Senator Robert Menendez sent a note to the court on Monday saying they were deadlocked on all 18 counts against him, prompting the judge to respond that they should return in the morning to resume deliberations.
U.S. District Judge William Walls told the panelists to go home and clear their heads before returning to consider the fate of the New Jersey Democrat. Walls had ordered the jury to restart deliberations with an alternate on Monday morning after a juror was excused last week for a pre-approved vacation.
"We cannot reach a unanimous verdict on any of the charges," Walls quoted the jury foreman as saying in the note. "Is there any additional guidance, and what do we do now?"
Jurors sent the note at 2 p.m., three hours after Walls had ordered them to start deliberations anew with the alternate. Jurors had failed to reach a verdict after more than three full days of talks last week. Walls brought jurors back into the courtroom in federal court in Newark, New Jersey, and said they should go home and get some fresh air, eat a good meal and get some sleep.
'See You Tomorrow'
Before Walls instructed the jury to go home, Justice Department attorney Peter Koski urged the judge to tell the panelists to keep working, saying they had spent only three hours since the new deliberations began. But Menendez attorney Abbe Lowell asked for a mistrial, saying the panel had deliberated for more than 20 hours, including last week. "Clear your heads. I'll see you tomorrow at 9:30," the judge said.
"As I said two-and-a-half years ago when I first faced these charges, I was innocent," Menendez said outside the courthouse. "Clearly, there are jurors who believe in my innocence. I want to thank them for that. I want to thank all the jurors for their service. But I believe no juror should be coerced."
If jurors fail to reach a unanimous verdict, Walls could declare a mistrial -- a major setback for the Justice Department, which began investigating Menendez five years ago. The Justice Department, led by Attorney General Jeff Sessions, would then have to decide whether to retry the case.
After meeting individually with four panelists and three alternates who said they had seen news reports that recounted their secret negotiations, Walls said he was satisfied that nothing he heard would prevent the jury from starting fresh.
Dismissed Juror
The uproar began after Evelyn Arroyo-Maultsby was excused on Nov. 9 for a pre-approved vacation. That evening, she told Bloomberg News and other news media that she had been prevented during contentious deliberations from giving a handwritten note to the judge about the 18 counts against the Menendez and his co-defendant, Salomon Melgen.
She also called Menendez a good man who was "not at all corrupt" but said that all 12 jurors at one point had agreed he was guilty of one criminal charge: making false statements by failing to disclose Melgen's gifts on his Senate ethics forms. Arroyo-Maultsby said she later had a change of heart over that charge and favored acquittal.
Walls told jurors Monday they should feel free to send him notes any time they want. He read from the note that Arroyo-Maultsby sent him, quoting: "I found it very unfair that after nine weeks this jury refused to present a verdict that was reached on Wednesday." She didn't elaborate on which of the 18 counts she was referring to in her note.
Menendez is accused of accepting lavish gifts and political contributions from Melgen, a Florida eye doctor. In exchange, prosecutors say, the senator used his office to carry out official acts to help the doctor in various disputes with the U.S. government. They are accused of conspiracy, bribery, honest services fraud and a violation of the Travel Act. Menendez is charged separately with false statements.
Before it's here, it's on the Bloomberg Terminal.
LEARN MORE