FIFA Trial Begins in N.Y. With the Trappings of a Mob Case
By
Opening statements given to jury in trial of former officials

Jury is anonymous after U.S. claims witnesses intimidated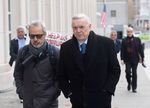 With witnesses threatened, documents destroyed and jurors cloaked in anonymity, the trial that began Monday in a Brooklyn courtroom has the trappings of a grisly organized-crime prosecution. It's not. It's a corruption case against three former members of FIFA, international soccer's governing body.
But the trial won't lack for drama. The testimony is likely to lift the veil on a global racketeering and bribery plot that prosecutors said ran for more than two decades at FIFA's highest levels and around the globe.
The case is the first to go to trial in an international crackdown on FIFA that began with a predawn police raid at a luxury Zurich hotel in May 2015. As the probe widened, Joseph "Sepp" Blatter, president for 17 years, and other FIFA officials were ousted and the sport was forced to confront allegations that executives pocketed more than $150 million in payoffs in return for media broadcasting rights.
In all, 42 people and entities have been charged by the U.S. (although not Blatter) and about two dozen have pleaded guilty. On trial are Jose Maria Marin, 85, the former head of Brazil's federation and once on FIFA's organizing committee for the Olympics; Juan Angel Napout, 59, a Paraguayan and former FIFA official who was president of South American soccer's governing body; and Manuel Burga, 60, a Peruvian soccer official and former member of FIFA's development committee.
FIFA's World Cup is the globe's most-watched sporting event and generates billions of dollars in sponsorship and broadcasting rights. The case against Marin, Napout and Burga will further expose the seamier side of the sport.
Blatter's Departure Signals Sweeping Overhaul of Global Soccer
The U.S says the three took bribes and kickbacks from sports-media and marketing firms tied to matches, including World Cup qualifying events, in at least five South American countries. The trio then used U.S. financial institutions to funnel millions of dollars to secret offshore accounts, prosecutors allege.
In opening statements, Assistant U.S. Attorney Keith Edelman told jurors in federal court in Brooklyn, New York, that the plot took shape at a Miami hotel in May 2014 as the heads of international soccer gathered to celebrate the 100th anniversary of the Copa America tournament, which was being held for the first time in the U.S.
"These three defendants cheated the sport in order to line their own pockets with money that should have been spent to benefit the game," Edelman said. "They did this year after year, tournament after tournament, bribe after bribe."
The case has evoked comparisons to some of the celebrated organized crime trials that are lore in the federal courthouse in Brooklyn. Papers were shredded, computer servers erased and one defendant ordered the removal of electronic devices from his office after he was arrested, prosecutors claim. Before the trial, prosecutors didn't disclose the names of some of their witnesses because they feared there might be efforts to intimidate them.
'Sensitive Names'
U.S. District Judge Pamela Chen has ruled that jurors will be anonymous and driven to and from court under guard, in part because of government concerns over the press coverage in Latin America. Even more unusual was a Nov. 6 discussion Chen had with lawyers on how to handle "four sensitive names" that may emerge at the trial.
A QuickTake explaiiner on corruption in soccer
On Monday, defense attorneys assailed the government's witnesses as liars, including the three men they say are cooperating with prosecutors: Alejandro Burzaco, the former chief executive of Torneos y Competencias SA, a sports-marketing firm; Sergio Jadue, a former head of Chile's football association; and Rafael Esquivel, an ex-chief of Venezuelan soccer.
The cooperators are "some of the most corrupt people on Earth," Bruce Udolf, a lawyer for Burga, told jurors.
"They have every incentive to point a finger at as many people as possible," Marin's lawyer, Charles Stillman, said, explaining that the government's witnesses would lie about the bribery scheme in return for leniency from prosecutors.
Napout's lawyer, Silvia Pinera, said there would be no evidence her client was paid "one penny" in bribes.
The case is U.S. v Napout, 15-cr-252, U.S. District Court, Eastern District of New York (Brooklyn).
Before it's here, it's on the Bloomberg Terminal.
LEARN MORE