Learn from Amazon and Google or Else, Deutsche Bank Exec Warns
By and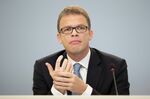 In its quest for growth, Deutsche Bank AG is warily eyeing Google and Amazon.
The Internet giants offer a model to learn how to stay relevant with clients, Deutsche Bank's deputy CEO and retail co-head Christian Sewing said Monday at the Euro Finance Conference in Frankfurt. On the downside, they may pose a vital threat to the banks' traditional business model.
"We can learn from the bigger platforms" such as Google and Amazon, Sewing said. "The worst that can happen is actually that we lose our clients to these platforms."
Germany's largest bank has embarked on a project, led by Sewing, to integrate its retail subsidiary Postbank, hoping that the combined 20 million clients in Germany will help profitability despite margins that have been eroded by low interest rates and a fragmented home market. CEO John Cryan suggested this month that technology may help the lender dramatically reduce headcount in the long run.
Before it's here, it's on the Bloomberg Terminal.
LEARN MORE