Cold War at UN Pits Haley Against Russian Newcomer Nebenzia
By
New Russian ambassador squares off against Haley over Syria

Nebenzia is low-key successor to a larger-than-life diplomat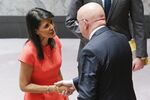 The chemical weapons attack in Syria that sparked President Donald Trump's first major use of military power is ratcheting up U.S.-Russia tensions at the UN, putting Moscow's new envoy to the global body on a collision course with U.S. Ambassador Nikki Haley.
This week, they are expected to tangle over rival resolutions on extending the mandate of a panel that has blamed the regime of Syrian President Bashar al-Assad, a Russian ally, for the attack.
Russian Ambassador Vassily Nebenzia, a career diplomat known for his low-key demeanor, has quickly shown he can muster the rhetorical firepower required in the United Nations Security Council. From Syria to North Korea, disputes before the 15-nation Council sometimes require envoys to dispense with written talking points to counter adversaries and beseech other countries to join their side.
"In this role you need a lot of qualities, to be a polemicist with very quick reactions and to have the ability to ward off attacks from our partners," former Russian diplomat Sergei Ordzhonikidze told Sputnik Radio when Nebenzia's appointment was announced earlier this year. "He has a good understanding of the problems the UN is facing."
Succeeding Churkin
Nebenzia, 55, landed in his current post after his predecessor Vitaly Churkin died of a heart attack in February. Churkin, one of the longest-serving UN diplomats from any country, was a former child actor known for his acerbic wit and a talent for stage-managing UN proceedings. Nebenzia is starting to show he has that ability even though he lacks Churkin's outsized personality.
At an Oct. 18 Security Council meeting on the Middle East -- a session many countries typically use to criticize Israel's settlements in occupied territories -- Haley instead devoted her address to lambasting Iran, another Russian ally, for its "destabilizing" actions in the region. After she finished, Nebenzia theatrically examined the papers in front of him and declared that Haley, a former governor with little foreign policy experience, must be "confused" over the agenda, which he said was about Palestine and not Iran.
Six days later, Nebenzia had harsher words after he blocked a U.S.-sponsored resolution -- in his first use of the veto power -- to extend the mandate of the panel investigating the April 4 sarin attacks in Syria that killed more than 80 people and injured almost 300.
"Let's not pretend we don't understand what's taking place here," Nebenzia said as he pushed to postpone the vote. "This has not been done out of good intentions, it is intended to embarrass Russia once again."
Without an extension from the Security Council, the investigative team's funding and mandate expires Nov. 16.
Protecting 'Terrorists'
With Russia disputing the team's finding that Syrian forces were responsible for the attack, the U.S. last week accused Moscow of protecting "terrorists who continue to use chemical weapons."
"We owe the world and the victims of these heinous attacks better," White House spokeswoman Sarah Sanders said Nov. 8.
While the U.S. and Russia have long clashed at the UN, Trump's election a year ago had diplomats expecting more of a detente. There was even talk of a U.S.-Russian alliance upending the traditional balance of power among the veto-wielding members on the Security Council, which put France, U.K. and the U.S. on one side against China and Russia on the other. That hasn't happened.
Continuing U.S. probes into Russian hacking of the 2016 presidential election and the Trump team's contacts with Russians during and after the campaign have complicated any effort by the White House to reach out to Moscow. The U.S. Congress has strengthened sanctions on Russia since Trump took office, and the two countries have ordered reductions in diplomatic personnel in tit-for-tat responses to disputes.
Over the weekend during his trip to Asia, Trump called the accusation of Russian meddling "an artificial Democratic hit job" and described intelligence agency chiefs under President Barack Obama as "political hacks." Although Trump later said he supported the intelligence finding that Russia interfered, "we have to get to work to solve Syria, to solve North Korea, to solve Ukraine, to solve terrorism" and Russia can help, he said.
Aside from Syria and Ukraine, "there is a faint sense that Russia is looking for better relations with the West," said Richard Gowan, a UN expert with the European Council on Foreign Relations, citing joint efforts to support tougher sanctions on North Korea.
Conflicts Endure
But at the UN, Nebenzia has inherited a plan of action with more areas of conflict than cooperation. His predecessor Churkin had vetoed half a dozen previous Security Council resolutions targeting the Assad regime over actions in Syria's almost seven-year-long civil war.
On Oct. 19, eleven days before U.S. Special Counsel Robert Mueller announced charges against three former Trump campaign advisers that grew out of his Russia probe, Haley warned Moscow against meddling in U.S. affairs.
"When a country can come interfere in another country's elections, that is warfare," Haley said at an event in New York alongside former secretaries of state Madeleine Albright and Condoleezza Rice.
A former deputy foreign minister, Nebenzia has been with the Russian Foreign Ministry for 34 years and arrived at the UN after serving four years as deputy foreign minister. Born in the city of Volgograd, then known as Stalingrad, the site of an epic battle between Soviet forces and Nazi Germany, Nebenzia graduated from the elite Moscow State Institute of International Relations in 1983.
Nebenzia declined to be interviewed for this article, and his office didn't answer questions sent via email.
'Personality Matters'
The ambassador is fully conversant in UN operations after serving as a senior adviser at Russia's UN mission in New York when current Foreign Minister Sergei Lavrov was the ambassador. Nebenzia also spent six years as deputy UN ambassador in Geneva during 2006 to 2012.
"Personality matters. The tenor of presentation has changed" with Churkin's demise, said Dmitri Trenin, director of the Carnegie Moscow Center. "Nebenzia is more low-key, calmer but he has an excellent reputation as a diplomat."
That experience was on view recently when it came to defending Syria's Assad, who's reviled by most nations.
Secretary of State Rex W. Tillerson reaffirmed on Oct. 26 the long-standing U.S. position that Assad must not remain in power, and said that there is no "future for the Assad regime and the Assad family."
Nebenzia pounced with a biting assessment of that declaration.
"We should not preempt any future for anybody," Nebenzia told reporters, "because the future will know for itself whether it is for someone or not."
Before it's here, it's on the Bloomberg Terminal.
LEARN MORE