Brent Crude Is 550 Million Barrels Long and Suddenly Weakening
By
Money manager net-long positions have risen to a record

Price structure that helped attract bullish bets is weakening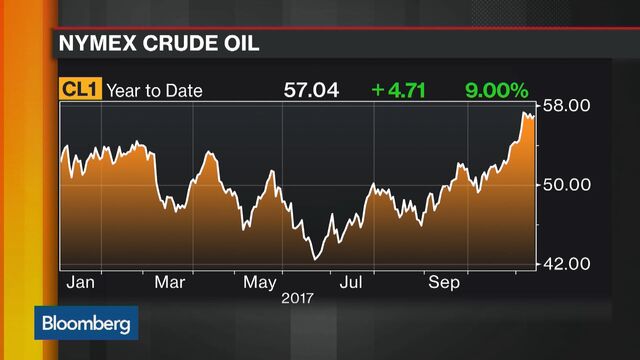 Speculators are more bullish than ever about Brent crude oil, but one of the market's best indicators of supply-and-demand has suddenly weakened.
Hedge funds, money managers and other speculators now hold futures contracts equating to a record net 550 million barrels of Brent crude. However, the price difference between the nearest contracts has been narrowing, slipping to a two-month low on Monday. A wider spread had previously attracted investors into the market.
"It will raise questions about the accelerating market rebalancing," Commerzbank AG analyst Carsten Fritsch said of the slump in prices for more-immediate crude relative to later contracts.

Factors supporting crude prices include tensions in the Middle East and the possibility that the producer group will maintain output curbs. Indeed, banks including Morgan Stanley, ING Bank NV and Barclays Plc are among those that have raised their price forecasts recently.
Speculative traders have piled into Brent amid signs that OPEC's production cuts are helping to rebalance the global market. Net-long positions futures positions for the global benchmark rose to a record 550,000 contracts in the week ended Nov. 7. Each contract equates to 1,000 barrels of oil.
Financial investors also closely watch the differences in monthly oil contracts. When the immediate contracts are more expensive than those for a later date, a market condition called backwardation, traders who hold long positions in the market benefit. That's because the positions roll from one contract to the next. If the price gap between contracts turns negative, known as contango, those traders lose money.
The buildup in speculative long positions comes at a time when oil inventories remain elevated by historical standards but are in decline as the Organization of Petroleum Exporting Countries and allied nations push through output curbs of about 1.8 million barrels a day. Even though global stockpiles will fall this year for the first time since 2013, the decline in inventories may halt in 2018 amid rising supplies in the U.S. and elsewhere, the Paris-based International Energy Agency said last month.
"That long is going to be a massive concern for the market," said Warren Patterson, a commodity strategist at ING Bank. "Week after week it has been building, and we just need one fairly bearish headline and there could be a hell of a lot of speculative liquidation."
Before it's here, it's on the Bloomberg Terminal.
LEARN MORE