Technology
After Harassment Allegations, Justin Caldbeck Attempts a Comeback. Critics Want Him to Stay Gone
On Thursday, he spoke to Duke University students about the dangers of "bro culture."
By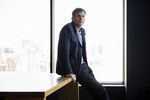 Venture capitalist Justin Caldbeck resigned in disgrace from his job running Binary Capital in June after six women accused him of unwanted sexual advances. He was one of the first in a new wave of powerful men in technology, Hollywood and media whose careers imploded under a hail of disturbing accounts about unwanted abusive behavior.
Now Caldbeck is also the first to attempt a post-scandal comeback.
Caldbeck said he is setting out to educate young men about the dangers of "bro culture" in the workplace. He plans to release a website on the topic soon, and on Thursday, he delivered a 51-slide presentation to 50 students in a finance class at Duke University, his alma mater. He said he wasn't paid and that he hopes to speak at other colleges. His goal, he said, is to "create positive change for women by educating young men about how to be better in the workforce."
Three of his accusers declined to comment. But their sympathizers aren't buying it.
"It's frustrating to think that someone who has done a lot of bad things gets a second chance, whereas other people are completely locked out of a system that is so biased and structurally flawed," said Tracy Chou, a software engineer and co-founder of Project Include, an organization that promotes diversity within tech companies. (She said she's not speaking on behalf of Project Include.) "I'm not sure if what he's working on is coming out of a place of deep reflection and wanting to improve the industry or wanting to reform his image enough to keep doing what he was doing before."
Caldbeck, 41, became a pariah in Silicon Valley this summer after the tech news site The Information published accounts from six women who said that during the course of their professional relationships with him, he invited them to hotel rooms for meetings, asked about their romantic relationships, groped them under the table during meetings or tried to sleep with them. Several of the women were entrepreneurs hoping to get funding from Caldbeck's firm, Binary Capital. Another female entrepreneur told the New York Times Caldbeck had kissed and groped her after investing in her startup. A former Binary employee sued the firm in June, saying Caldbeck and his business partner created a "sexist and sexual environment" at the firm and threatened her after she quit. In July, he sent Niniane Wang, one of his accusers, a cease-and-desist letter telling her to stop making allegedly false statements about him.
Considering all of this, diversity advocates question whether Justin Caldbeck is well suited to teach others how to behave. "This is teaching people about inclusive culture, about how to do away with toxic practices, and that's a discipline in and of itself," said Nicole Sanchez, who runs Vaya Consulting, which advises tech companies on inclusivity. "It's easy to say, 'Stop perpetuating bro culture,' but without saying how and what to put in its place, it's not helpful."
Others questioned why he isn't including women in his presentation. "You need to have men and women involved and on that stage," said Lisa Wang, the CEO of SheWorx, a community for female entrepreneurs.
When Caldbeck met with Bloomberg earlier this month, he insisted he is ready to turn over a new leaf. That wasn't the case immediately after the first story about his harassment ran. Minutes after publication, he texted the reporter, "Go f--- yourself," and his statement at that time said, "I strongly deny The Information's attacks on my character. The fact is, I have always enjoyed respectful relationships with female founders, business partners and investors." He now says that within the past five months, he sought feedback for his new campaign from "family and close friends," including some women. But public faces of the diversity in tech effort, like Ellen Pao, have not yet returned his entreaties.
Caldbeck said he believes his bad behavior stemmed from his experiences in college, where as a student and an athlete, "dating lots of women was perceived as a good thing," he said. "There was no notion in college, in business school, really anywhere, of like, hey, this behavior, it's really serious in the workforce." He said he wants to give these talks because he believes it's where he can do the most good.
It also happens to be a tried-and-true reputation management technique, honed to an art by past wrongdoers like the Wolf of Wall Street's Jordan Belfort and Frank Abagnale Jr., whose career as a con man was depicted in the movie Catch Me If You Can. "This is Crisis Management 101. Once something horrible happens, you go and you take that issue and stand behind it, speak out about it," said Eleanor McManus, a crisis public relations expert at Trident DMG. It looks as though "he has hired a great crisis manager who has given him advice to turn the tables in order to restore his reputation." Caldbeck said he has not worked with anyone in crisis management.
On Thursday, Caldbeck told students gathered for a class on finance and investments that in hindsight, he "wasn't nearly aware enough of my position of authority" and "was behaving hurtfully, disrespectfully, putting women in tough situations." He said the "mistakes" he made cost him his job, his reputation and "tens and tens of millions of dollars." He warned them that "you cannot get near the line of personal behavior when you are interacting in any remotely professional context," even though in college and in business school, those lines tend to be blurrier. He said that while he believes there are men in Silicon Valley and elsewhere who are "calculating" in their misconduct, he painted himself as just deeply unaware and said many men are as well. But blaming your past for making you unaware doesn't cut it, McManus said. "You can't blame college and youthful behavior for your actions," she said.
Since resigning in late June, Caldbeck said he has been spending most of his time at home in Hillsborough, California, south of San Francisco. During one of the handful of times he has been out in public since, he said he was approached by a woman at a restaurant who called him a predator. He said he is currently drafting letters of apology to the three women who went on the record with their accusations, plus five or six more who he feels he has wronged but who didn't come forward. "If I'm honest with myself, I made more mistakes than the ones that were reported," he said.
While some of the portfolio companies he worked with closely have shunned him, others still seek his advice on important decisions. He stepped down from a management role but is still one of two co-owners of Binary Capital, according to a person familiar with the matter. He and his partner at Binary, Jonathan Teo, are in discussions with investors on how to replace them both, said the person, who asked not to be identified because of legal sensitivities. He will still get a share of the profits from the startups he backed at Binary and his previous firm, Lightspeed Ventures, including Stitch Fix, which has filed for an initial public offering. (Katrina Lake, CEO of Stitch Fix, asked for Caldbeck to be removed as an observer on the company's board of directors after his behavior made her uncomfortable, according to technology news site Recode. She declined to comment for this article.)
For Caldbeck, cultivating self-awareness is a work in progress. He said that when the original article about his behavior was published, he was surprised when he saw the names of some of the accusers. "That shows how un-self-aware I was," he said. "I was not nearly aware enough about the scope and scale of the problem and my contributions to it at all." Shortly after news broke of his bad behavior, he changed his professional title on the networking site Linkedin to "Head of Self-Reflection, Accountability and Change." Caldbeck said he meant it seriously, but it was met with widespread derision.
Caldbeck's plan is to take his story to other colleges, if they'll have him.
For more on sexual harassment and Silicon Valley, check out the Decrypted  podcast:
Before it's here, it's on the Bloomberg Terminal.
LEARN MORE