Lagarde Sees Confidence in China's Plan to Open Financial System
By and
IMF chief says China is taking action to rein in credit growth

Globalization, technology benefits 'must flow to all': Lagarde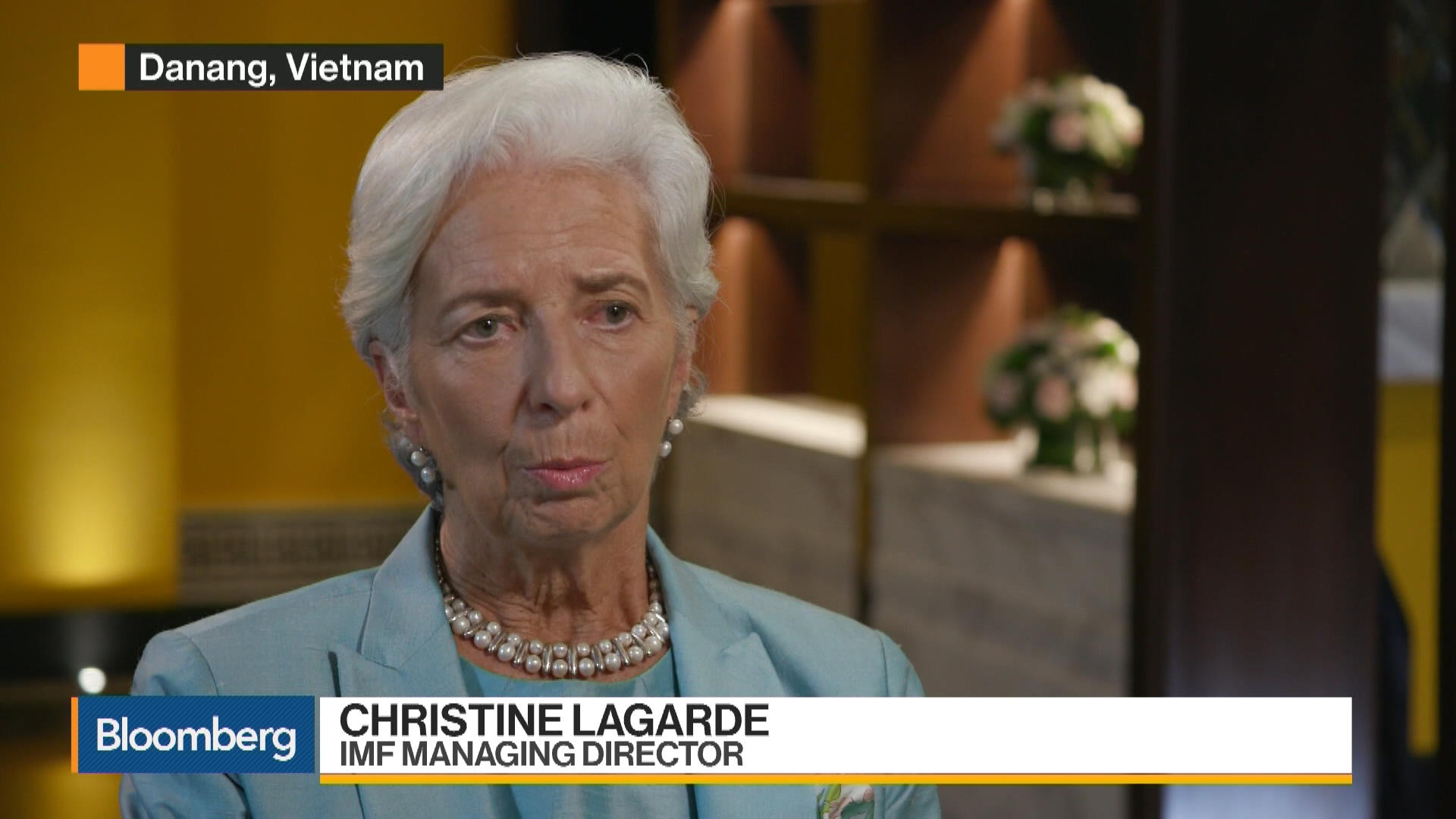 China's plan to ease foreign-ownership limits on financial firms drew praise from IMF chief Christine Lagarde, who described the move as a "very positive development."
The partial removal of barriers "is an indication of two things: openness and also better strength and confidence in their own system," the International Monetary Fund managing-director said in an interview in Danang, Vietnam. She added that Chinese policy makers are responding to calls for controlling credit-fueled growth.
The IMF has raised the issue of debt with China's central bank and other authorities, and they are taking action to avoid economic expansion being predominantly driven by credit, she said. Concern about excessive leverage in the financial system has also been flagged by People's Bank of China Governor Zhou Xiaochuan, who reiterated risks posed by the nation's debt burden, potentially signaling that authorities will take a tough line.
Lagarde's comments on China's moves to open up its financial sector follow an announcement last week that the Asian nation will remove foreign-ownership restrictions on banks while allowing overseas firms to take majority stakes in local securities ventures, fund managers and insurers.
To read more on the move to ease ownership limits, click here.

Lagarde spoke at the end of an Asia-Pacific ministers' meeting in Vietnam that pledged to flight protectionism and embrace the World Trade Organization. The leaders of the world's two biggest economies offered contrasting global visions in speeches to business leaders: Chinese President Xi Jinping offered a robust defense of globalization, calling on nations to keep their economies open for shared prosperity; President Donald Trump said the U.S. wouldn't seek multilateral trade deals and wanted to make the system fairer for Americans.
Lagarde rejected the idea that globalization is under threat, saying the main issue that needs to be addressed is who benefits from it.
Globalization and the benefits of technology and innovation "must flow to all," she said. There "cannot be groups of people, regions of the world or regions in countries which do not benefit from globalization."
Global Growth
Lagarde also talked up the global economy, pointing to its acceleration to 3.6 percent growth this year from 3.2 percent last year, and a forecast 3.7 percent for 2018. Asia would generate at least 5.5 percent, she said. "So, that tells you a lot about the role played by the region in global economic development."
The IMF chief said she couldn't see central banks in Asia tightening monetary policy in 2018.
"Monetary policy will be tightened in those countries where the economy is picking up sufficiently fast and where inflation is rising, so this is going to be the case in the U.S.," Lagarde said. "It's happening very gradually, very smoothly and we hope that it continues at that pace without any abruptness without massive capital movement as a result."
Before it's here, it's on the Bloomberg Terminal.
LEARN MORE