Boeing Finds Solace in Trump Tweets Amid Saudi Corruption Purge
By
Trump's May visit to Kindgom has boosted relations: Jazzar

Planemaker has pitched Max 10, new midmarket jet to Saudia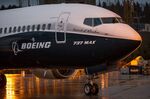 Boeing Co. said it's confident that it will keep winning business in Saudi Arabia and benefit from the overhaul of the economy, even after a government-orchestrated corruption purge a week ago engulfed the oil-rich country.
The U.S. manufacturer is getting support from President Donald Trump, who sent approving messages on the arrest of billionaire businessmen, officials and royals last week in a crackdown as Saudi officials said more than $100 billion has been misused over decades. Since Trump was elected a year ago, Boeing has witnessed a notable improvement in US Saudi relations that's ultimately benefiting the company, said Ahmed Jazzar, Boeing's president for Saudi Arabia. 
"So far, the president came out in full support in what's going on in his tweets." Jazzar said in an interview ahead of the Dubai Air Show.
Trump's business experience and his decision to make Saudi Arabia the first foreign country he visited as president in May -- where he was given an elaborate welcoming ceremony -- has proved a boon for Boeing.
"I've never seen a red carpet rolled out for anybody prior to that and I probably never will see it again," Jazzar said, describing the streets of Riyadh that were covered in red, blue and white, and country musicians performing for local crowds. "It was considered to be an honor that the president would visit the kingdom as his first international stop, so that meant a lot."
Business Opportunities
The Chicago-based planemaker is preparing for opportunities it identified in "Vision 2030" -- Saudi Arabia's plan to modernize its economy. It sets a goal of lifting the number of pilgrims traveling to the country during the Haj to 30 million from about 7 million now, he said. Half of those trips will be flown by Saudi Arabian Airlines, with the remaining covered in joint ventures with the flag carriers of Islamic nations including Malaysia, Indonesia and Nigeria.
"If you're going to do this, you'll need a lot of equipment," Jazzar said. Boeing has pitched both the new middle-of-the-market jet and the stretched 737 Max 10 to Saudi's biggest carrier for use on busy domestic routes linking Jeddah, Medina and Riyadh, the capital.
Meanwhile, a new Saudia offshoot, Flyadeal, has requested proposals for 30 narrow bodies plus 20 options, he said. Boeing will likely be offer its 737 Max workhorse against Airbus SE's A320neo.
"It's a big country. Yes they have roads, yes they're now building railroads, but the real practical means of traveling in a very large country like that is by plane," he said.
Before it's here, it's on the Bloomberg Terminal.
LEARN MORE