Venezuelan State Electric Company's Trustee Declares Default
By
Electricidad de Caracas owed $27.6 million in interest Oct. 10

Thirty-day grace period on Elecar's payment expired Thursday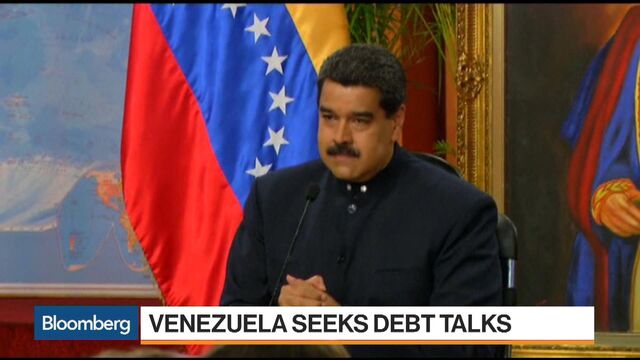 Venezuela's state electricity company was declared in default by the trustee for its bonds after it failed to make a $27.6 million interest payment. The electric utility, however, said that the cash was sent Nov. 8 and was being held up due to "operational changes."
Traders had long suspected that Elecar's $650 million in notes coming due next year could be a candidate for the cash-strapped government to stop paying as it struggles to stay current on its debt. They don't contain cross-default clauses that would impact securities from the sovereign or state oil company PDVSA, and the utility doesn't have overseas assets, meaning there isn't much investors can attempt to seize to get their money back.
Traders have been searching for clues on Venezuela's strategy since President Nicolas Maduro's confusing announcement last week that he would seek debt-relief talks while still continuing to service existing bonds, and Elecar's statement that it had made the payment only added to the mystery. Most of the country's notes rose Friday after PDVSA bondholders began to receive an overdue $1.1 billion principal payment from the much bigger, and much more indebted, oil producer. Restructuring talks are scheduled to begin Monday in Caracas.

Electricidad de Caracas bonds had tumbled to a record low near 20 cents on the dollar even before the announcement by Wilmington Trust Company. That means investors perceived them as the riskiest notes maturing during the next year in the world's riskiest nation. The interest payment was originally due Oct. 10, and the 30-day grace period expired Thursday.
Venezuela remains behind on more than half a billion dollars of interest payments due to sovereign and PDVSA debt holders, with grace periods on $280 million of those arrears due to expire over the weekend. Credit-default swap contracts show default odds at more than 99 percent over the next five years.
— With assistance by Tiago Ramos Alfaro
Quotes from this Article
Before it's here, it's on the Bloomberg Terminal.
LEARN MORE