Venezuela Bulls Find Reasons to Be Optimistic as Bonds Rally
By , , and
Bondholders say they received payment on PDVSA 2017 bond

Five-year implied probability of sovereign default hits 100%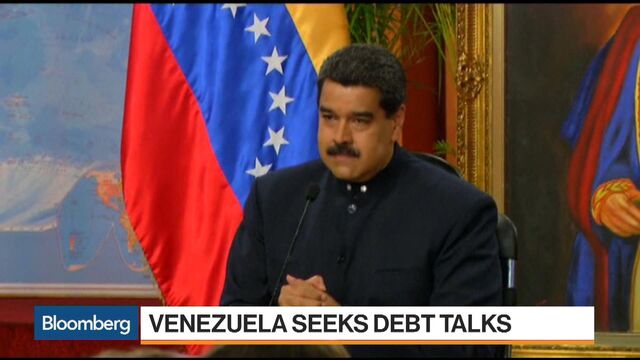 Speculation that President Nicolas Maduro will default on Venezuela's debt has sent credit-default swaps skyrocketing to records as the clock runs out on debt payments.
Traders have become so pessimistic that swaps contracts now imply unheard-of 100 percent odds that the oil-rich nation will default on its sovereign bonds during the next five years, with the prevailing theory being that the socialist leader will favor full stomachs over Wall Street ahead of next year's presidential election.
But an assortment of money managers and analysts, including Emso Asset Management, AllianceBernstein LP and Torino Capital, say the market has rushed to judgment. While the state electricity company was declared in violation of its debt obligations Friday after missing a payment, Petroleos de Venezuela SA bondholders on Thursday began to receive a late principal payment from the much bigger, and much more indebted, state-run oil company. That sparked a rally in sovereign and PDVSA notes today.
"The savings of default would be meager over a five-month horizon, the costs incalculable and the political benefits questionable," said Patrick Esteruelas, head of research at Emso, which oversees $5.2 billion. "I don't think they have a restructuring strategy, and I certainly don't think they've reached the conclusion that a default or selective default is an effective strategy that will serve them well politically."

While the Maduro government has drawn criticism from opposition lawmakers for prioritizing debt payments to Wall Street firms amid a shortage of affordable necessities, there's evidence to suggest a default by the government wouldn't be politically palatable. A July poll by the Caracas consultancy Datanalisis found that nearly 60 percent of Venezuelan respondents wouldn't support a default, even if it meant importing more food and medicine.

And while the country has tested the limits of payment deadlines, the fact that the president as well as PDVSA executives have still gone to great lengths to deliver funds to bondholders amid tighter sanctions and difficulties with intermediary banks suggests that their willingness to pay hasn't withered, said Francisco Rodriguez, chief economist at Torino Capital in New York.
"I don't see them making all this effort to pay and then going into default for the coupons," he said. Venezuela's government appears to "see the problem as a general problem and they are not making distinctions between entities when making a payment decision."
State electricity firm Elecar might have been a special case. Analysts have speculated the government would let it go into default because its $650 million of notes due next year contain no cross-default clauses that would impact sovereign or PDVSA bonds, and because it has no assets for international investors to try to seize.
Venezuela investors will probably know more on the outlook come Monday, when the government is scheduled to host bondholders in Caracas for debt talks. But Esteruelas says that the openness toward exploring restructuring options doesn't change the fact that the government is resolute on avoiding default at all costs.
"Usually if you're planning to default, you don't make payments because you want to preserve liquidity," said Shamaila Khan, director of emerging markets at AllianceBernstein, the eighth-largest reported holder of Venezuelan debt securities. "Investor patience is higher now knowing that transactions could be delayed."
— With assistance by Fabiola Zerpa, and Brendan Walsh
Before it's here, it's on the Bloomberg Terminal.
LEARN MORE