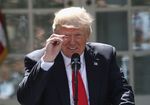 Quick flashback: This week in 2016. We were in the midst of another gangbuster year for dealmaking that helped lift stocks, when Wall Street found itself caught off guard by the U.S. presidential election surprise. Everyone was scrambling to figure out what a Trump administration would mean for all things business and the economy, and consequently, for mergers and acquisitions. 
Today, Trump's influence over M&A activity remains ambiguous. That's partly because, for all the sweeping changes he's talked of carrying out since that day last November, little has actually changed. It's largely been business as usual for Corporate America, with CEO confidence still high and the need for acquisitions to fuel growth as present as ever.

Just look at the developments from the last few weeks: Broadcom Ltd. is pursuing a takeover of its $95 billion chipmaking rival, Qualcomm Inc., which itself is in the process of a mega-deal for NXP Semiconductors NV. CVS Health Corp. is also reportedly considering an acquisition of Aetna Inc., a $56 billion health insurer. And Walt Disney Co. set off deal speculation in the media industry following news reports that it explored buying most of 21st Century Fox Inc., including TV and film assets that may be worth more than $30 billion.
There is one puzzling -- if not disconcerting -- trend, though. Acquirers are spending a lot less money than usual on American companies (which is perhaps the way Trump, who at times preaches isolationist views, would like it at least):

Only 43 percent of this year's total global deal dollars have flowed toward North America, the region's lowest share since the aftershocks of the last financial crisis and recession. This reflects a lull in the U.S., where the total value of M&A is down 35 percent to date, well overshadowing Canada's surge. And it's created a drag on global activity, even as Europe and the Asia-Pacific region have picked up some steam. 
There could be a variety of explanations for this imbalance, such as shareholder activism traveling abroad and helping to propel more deals there, as well as certain industries having been already quite consolidated within the U.S. following all the activity of 2014-2016. And to be fair, North America is still taking the largest piece of the pie, it's just rare to see its proportion drop to substantially less than 50 percent. 

But there is reason to believe that we're on the verge of a pickup in the U.S. again. As I've been writing this week, Disney's talks with Fox signal that both companies are on the lookout for deal opportunities. Others in the media, wireless and pay-TV industries -- which are slowly converging -- are likely to turn to acquisitions to fight cord-cutting and diminishing pricing power. The packaged-food giants also feel like they're on the brink of some major changes, as Amazon.com Inc.'s takeover of Whole Foods Market Inc. creates a ripple effect throughout a consolidating grocery space.
Some companies may be waiting to see the current Justice Department's handling of AT&T Inc.'s pending acquisition of Time Warner Inc., almost a litmus test for how Trump's administration views conglomerate-building. This week saw a news frenzy around the deal because the DOJ is reportedly offering AT&T an ultimatum -- sell Turner Broadcasting, the division comprising CNN, or sell DirecTV -- either of which would be deal-breakers. But while some see this as Trump meddling in regulatory affairs to retaliate against CNN, I see it as the DOJ hesitating to approve a concentration of power in the broader communications field such as we've never seen before. If it goes to court, AT&T stands a good shot of winning, which should be a boon for further deal-making. 
If CEOs are simply being cautious amid record-high takeover valuations and swelling debt loads, that discipline isn't a bad thing. The question is whether the political turbulence is sending a signal that America isn't quite so open for business or has would-be dealmakers nervous about becoming Trump's next Twitter target.
Before it's here, it's on the Bloomberg Terminal.
LEARN MORE