Tillerson Says He Envisions U.S.-North Korea Talks
By
Initial talks would be a precursor to formal negotiations

North Korea's last missile launch was nearly two months ago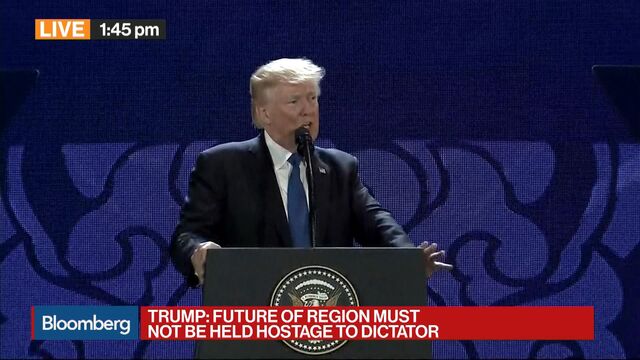 Secretary of State Rex Tillerson said Friday he can envision the U.S. and North Korea agreeing to hold talks at some point as a precursor to formal negotiations.
"Eventually we're going to have one of those days where we're both going to say OK, maybe it's a good time to have that first conversation," Tillerson told reporters on board a flight from Beijing to Danang, Vietnam. "Not to start negotiations but to have that conversation."
Tillerson, who is attending the Asia-Pacific Economic Cooperation summit, said he didn't want to over-interpret the gap of nearly two months since North Korea's last missile launch. He said he'd look for a "relative period of quiet and an indication from Kim Jong Un himself that they would like to have some type of a meeting."
The U.S. has "two or three channels" in which they can send messages to Kim and receive them back, Tillerson said. He said that the U.S. wouldn't threaten Kim if he gave up his nuclear weapons.
"If North Koreans want to live under his dictatorial regime, so be it, but when he picks up nuclear weapons he changes it for everyone," Tillerson said. "We would ignore him otherwise, quite frankly."
North Korea's last launch was on Sept. 15, when the isolated state fired its second missile over Japan in as many months -- a rocket that flew far enough to put the U.S. territory of Guam in range. The country has repeatedly threatened to fire a missile near the American territory in the Pacific.

60 Days
Joseph Yun, the U.S.'s top North Korean official, was reported by the Washington Post as saying on Oct. 30 that if the regime halted nuclear and missile testing for about 60 days, that would be the signal Washington needs to resume direct dialogue with Pyongyang.
Tillerson denied the U.S. had a specific window. "That may be Joseph's view that 60 days would be a pretty good run, and it would be a pretty good run," he said. Even so, he added: "Now Kim could surprise us tomorrow with another missile launch."
U.S. officials have been burned in the past for interpreting lulls in North Korean weapon tests as olive branches. After a relatively long pause in August, President Donald Trump told a rally that Kim was "starting to respect" the U.S., speculating that "maybe, probably not, something positive will come out of it." Days later, he was condemning the nation for firing a ballistic missile over Japan.
Speaking on Tuesday in Seoul, Trump called for North Korea to "make a deal" on its nuclear and ballistic missile programs. But in an address to South Korea's parliament the following day, he reverted to his fiery rhetoric, calling Kim a "deranged tyrant" who had turned the country into "a hell that no person deserves."

Before it's here, it's on the Bloomberg Terminal.
LEARN MORE