A 107-Year-Old Steelmaker Closes Its IPO
By
Company raised C$230 million including over-allotment option

'We are the best candidate' for acquisitions, CEO says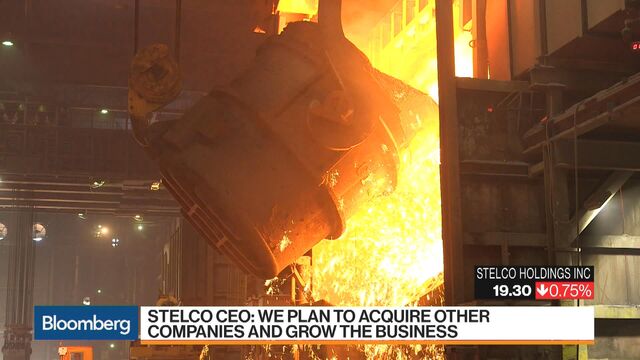 Stelco Holdings Inc. has gone from being a distressed takeover target to a company on the prowl for acquisitions as the 107-year-old Canadian steelmaker returns to the public markets, Chief Executive Officer Alan Kestenbaum said.
The Hamilton, Ontario-based company closed its initial public offering Friday, raising C$230 million ($181 million), including a fully exercised over-allotment option. The shares began trading on a when-issued basis Nov. 3 in Toronto and have gained 14 percent since then.
"We've got the clean balance sheet, now we have the shares that we can use to either raise capital or to use in an M&A strategy, we have access to the debt markets if we choose to do it, so we definitely view this as something to enhance our position as an acquirer," Kestenbaum said in a phone interview from New York.
Stelco will primarily look at targets in North America and Kestenbaum said it has "multiple sources of deal flow available to us."
Stelco emerged from its second trip through bankruptcy court in June having eliminated C$3 billion of debt and C$1.3 billion of pension and benefit obligations, giving it a clean balance sheet. Kestenbaum attributed the stock's performance to investor interest in the steel industry and Stelco specifically.
"People from a macro perspective are very interested in steel companies right now" as China shuts plants to cut pollution, boosting global prices, he said. "That initially piqued people's interest in seeing us, but when they heard our story I think they were extremely impressed with us and that has driven a lot of investor interest."
Automotive Sector
Kestenbaum's private-equity firm, Bedrock Industries LP, owns 85 percent of Stelco. The company was previously owned by Pittsburgh-based U.S. Steel Corp., which acquired it in 2007 after it emerged from its first stint in bankruptcy protection.
Stelco plans to focus on making high-strength steel for the automotive and construction industries. The company will have to compete with its former parent, which migrated many of Stelco's auto contracts to its U.S. plants. The auto industry accounted for 37 percent of Stelco's consolidated shipments in 2006 and only 3 percent in 2016, according to the company's prospectus.
Kestenbaum said he isn't worried about the competition.
"The customers want more suppliers. The doors are open to us."
Quotes from this Article
Before it's here, it's on the Bloomberg Terminal.
LEARN MORE