Polish Ruling Party Eyes Revamp of Local Elections
By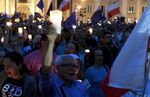 Poland's ruling Law & Justice party is planning to overhaul legislation on local elections as it seeks to consolidate its power in what's currently a stronghold of the opposition.
A bill presented Friday includes a switch to proportional representation for first-past-the-post districts, favoring strong political parties, and a two-term limit on mayors. Law & Justice had considered a retroactive cap on terms but dropped the measure, which would have prevented scores of sitting local politicians from running in 2018 amid criticism from President Andrzej Duda and the opposition.
Law & Justice, which is already under fire from the European Union over accusations it's backsliding on democracy, says the new election rules will distribute power more evenly and prevent local elites from becoming entrenched. While the party is strong in national opinion polls, the largest opposition party, Civic Platform, governs in the majority of Poland's biggest cities, with officials often holding their posts for more than two terms.
"This is about subverting local elections to party dominance, just the way it is at the national level," said Wojciech Jablonski, a political-science lecturer at Warsaw University.
Before it's here, it's on the Bloomberg Terminal.
LEARN MORE