On a Mountain Trail, Colombia Drug Cartel Makes a Tempting Offer
By
Government reintegration programs disorganized and chaotic

Former FARC rebels are valued employees for drug traffickers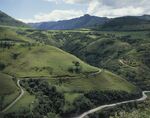 Masked men stopped Maria Gomez and her partner last month as they traveled along a dirt track through the western Colombian Andes. It was the drug cartel and they had a job offer.
The former guerrillas had been enjoying their first weeks of civilian life after handing over their weapons to the United Nations. They bought a motorbike with the money the Colombian government gave them after disarming, and were visiting relatives they hadn't seen during the years of fighting.

"We told them we were just normal people going to visit family, and they said, don't lie, we know you're guerrillas," Gomez said. "They said that, as guerrillas we could work with them, since we have a lot of valuable knowledge."
As the new political party formed by ex-combatants under the 2016 peace accord prepares for its first elections next year, cocaine traffickers are consolidating their grip on the rebels' rural heartland. The cartel recruiting drive is being helped by government blundering in its efforts to reintegrate 6,000 former guerrillas into civilian life. So, while Gomez turned down the job offer, she says some of her former comrades in arms have had fewer scruples and have returned to the jungle.
Colombia is still a long way from real peace. Even after the 50-year Marxist insurgency by the Revolutionary Armed Forces of Colombia, or FARC, wound down, the country still has a murder rate higher than that of Mexico, a country that has become a byword for drug cartel brutality. The post-conflict chaos threatens to loom large in the 2018 elections, potentially boosting opponents of the peace deal such as allies of former President Alvaro Uribe.
Front-Line
University teacher Peter Ortiz is on the front line of government efforts to reintegrate guerrillas into society. It isn't going as well as hoped.

On a Monday morning in late October, he was sitting in front of an empty classroom near the village of Santa Lucia in northern Colombia. Not one of the former combatants he was meant to be teaching showed up for a course that covers the basics of math, science and Spanish language.
"We're in the coffee harvest, so they prefer to go out and pick coffee, or do day work," said Ortiz as he stared at his desk. "Money is the main reason."
The classroom is in a former guerrilla hideout in a canyon whose upper slopes are sown with home-made landmines. The camp itself never got finished and 40 percent or more of the 250 former rebels from a FARC unit have abandoned it in recent weeks. Those who remain -- most have nowhere else to go -- are trying in various ways to supplement the approximately $220 a month the government gives them, equivalent to 90 percent of the minimum wage.
They are supposed to be receiving not just general education, but skills training. They've had classes on topics including fish farming, photography and how to operate a computer, but none of the "productive projects" that were supposed to generate employment for them are anywhere near starting.
The government "could hardly be doing more to encourage ex-guerrillas' desertion," said Adam Isacson, a Colombia expert at the Washington Office on Latin America. "I think resources are there. Decision-making has not been. Meanwhile nobody seems responsible or accountable."
The Dissidents
As well as the trickle of former rebels joining up with drug traffickers, a movement of FARC dissidents is spreading, and has now grown to about 400 people, according to Ministry of Defense estimates.

Many of the former rebels say they fear for their safety. The two-hour journey from the FARC camp to the town of Ituango has become increasingly hair-raising since a cocaine-trafficking organization known as the Pachellys moved into the area.
When the guerrillas controlled the region, traffickers could be shot if they entered without permission, or failed to pay the "tax" levied by the FARC on each kilo of coca paste, a kind of unrefined cocaine produced by the farmers.
The temptation to join the dissidents or the drug cartels is obvious.
Many guerrillas never finished school, and still lack the skills they need to make a decent living in Colombia's big cities, but they know the mountains better than anyone. They know who works with who, where the drug routes are, and they know how to handle a rifle. What's more, they are much more disciplined than the urban hoodlums and juvenile delinquents the traffickers normally hire.
Security forces believe that in the region around Ituango one of the major buyers of coca paste is a former FARC member known by his alias "Carnitas".
Gomez says she expects many more to join the traffickers when the government's monthly payment ends after two years, and as ex-guerrillas get tired of living in flimsy huts. The traffickers pay as much as 2 million pesos ($670) per month, she says.
The Disaster
The government of President Juan Manuel Santos spent four years negotiating a peace accord with the guerrillas, who then appeared to drop far down its list of priorities once they had handed over their weapons and registered as civilians. The implementation of the peace accord has turned into a "disaster," said Sandra Borda, dean of the Social Sciences Department at Bogota's Jorge Tadeo Lozano University.

"It's incredible that after all the political effort that this government did so that this accord could finally be signed, now they have come to this," Borda said. "It's a combination of negligence and lack of concern for the topic."
After a few weeks doing low-paid work near the camp, Gomez moved to one of Colombia's major cities and will stay there if she can find work. As she tries to start a new life, one of the first things she needs is medical treatment. She was badly wounded in firefights with the security forces, and was patched up in the mountains by FARC nurses without proper equipment or qualifications.
She doesn't know what she'll do for a living, but she's given up on waiting for the government to get its act together.
"The government is going to give us this subsidy for two years, and after that how are we supposed to live, if the projects still aren't ready?" she said. "I don't see our future in a prefabricated hut."
Before it's here, it's on the Bloomberg Terminal.
LEARN MORE