Here's Why Poloz Is Fixated on Canada's Youth Labor Force
By and
Participation rate for 15-24 year olds reaches two-decade low

For Bank of Canada governor, category holds key to rate timing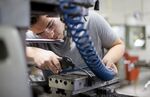 While Canada's recent growth surge has been a welcome development, it's bringing to light a new set of problems: the country may run out of workers to keep the momentum going.
Participation rates -- the proportion of the population either working or looking for work -- are running up against historical highs in every age category except one: youth.
And that's exactly who policy makers are counting on to keep the nation's expansion going. Historically low interest rates are generating such strong demand, the economy will need to draw in more young workers simply to keep up. Otherwise, wage increases could accelerate, pushing inflation higher and forcing the Bank of Canada to hike borrowing costs. Governor Stephen Poloz cited this potential reserve of young workers as reason to believe the economy still has room to produce non-inflationary growth.
"There is some more space to run from a labor market perspective," said Oren Klachkin, senior economist at Oxford Economics in New York.
Of the 4.3 million Canadians 15- to 24-years old, some 62.7 percent were participating in the labor force in September, the lowest proportion since 1998. The employment rate, a measure of how many people have jobs relative to the total population, is below 57 percent in the youth category, closer to the 54 percent low point after the last recession than to the peak of 60 percent immediately before.

It's not atypical for youth participation to drop after downturns, only to rebound once labor market conditions improve. The recession in the early 1990s triggered a decline in the participation rate of as much as 10 percentage points, before recovering most of the fall.
It's still not clear the latest drop, which began immediately after the 2008-2009 recession, has even reached bottom -- suggesting to policy makers that it's due for a rebound. 
Higher Education
Complicating matters are structural trends in education that have seen enrollments increasing and that may keep youth participation lower for longer. About six in 10 young people were full-time students last year, compared with about four in 10 in 1976, Statistics Canada data show.
Darlene Minatel, a vice president at staffing firm ManpowerGroup Inc., pointed to a skills mismatch that's keeping students in school. The decline in youth participation "is a long term problem" centered around the need for more technological expertise to land high-paying jobs, Minatel said by phone from Toronto.
But the central bank's analysis suggests there is scope for a pick up. An increasing number of young people say they don't want a job, a trend that only began after the recession, and therefore one that may reverse as the economy accelerates. "There could be room for a greater pickup in Canada's youth participation relative to that of the U.S.," according to a July research paper.
The proportion of youth who want a job but are discouraged -- those who've given up even looking because no suitable work was available -- is at 3.9 percent, above the 10-year average of 3.1 percent. In other age categories, that proportion is falling below the averages since the recession.

Drawing from these reserves underpins the latest shift in the central bank's monetary policy. In these pockets of slack, Poloz sees the seeds of higher potential.
"If we are able to get an extra one percentage point of extra economic capacity by this re-integration of the workforce, more conversion from part-time to full-time and re-participation by those youths, that is a very significant thing for us to achieve," Poloz told lawmakers on Oct. 31.
Payroll Influx
The numbers back this up. If the youth participation rate were at 66.6 percent, the five-year average before the recession, that would imply about 126,000 more workers in the labor force. At the category's current jobless rate, 11.1 percent, that works out about 112,000 added to payrolls.
Not everyone is buying Poloz's plan.
"This youth argument to me is probably going to have a short shelf life," and Poloz may give it up by January, Fred Demers, chief Canada macro strategist at TD Securities, said by phone from Toronto. Some of the labor market pockets Poloz has highlighted are "at the margin and beyond the scope of monetary policy," he said.
Discouraged workers represent just 0.3 percent of young people outside the labor force.
There are signs excess capacity in the youth labor market is already tightening. The share of young part-time workers who would prefer a full time job is still above pre-recession levels but has been falling. Although the youth participation rate fell to the lowest since 1998 in September, it ticked up a full percentage point in October.

Pulling in enough new workers who can make a big contribution to the economy "is quite difficult, to be completely frank," said Randall Bartlett, chief economist at the Institute of Fiscal Studies and Democracy at the University of Ottawa. "Where he's planning on pulling these workers from, I don't really know."
Still, Poloz has made youth workers a constant refrain at recent public appearances, including one in St. John's, Newfoundland in September, where he acknowledged it's the problem he takes "most personally."
"What keeps me awake at night really," he said after the speech, "is youth unemployment and, probably more importantly, underemployment."
Quotes from this Article
Before it's here, it's on the Bloomberg Terminal.
LEARN MORE