Five Things You Need to Know to Start Your Day
Get caught up on what's moving markets.
By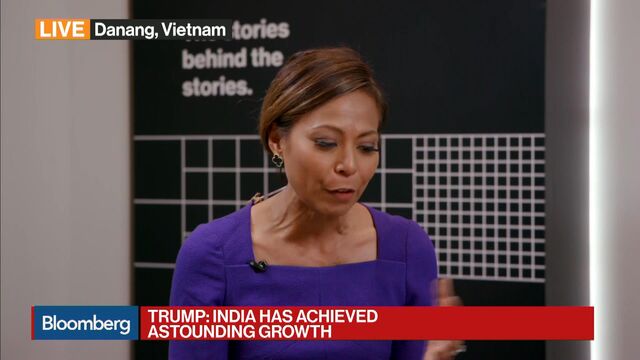 Want to receive this post in your inbox every morning? Sign up here
Trump issues fair-trade warning to Asia, Brexit hits latest roadblock and how the Republican tax plans stack up. Here are some of the things people in markets are talking about today.
Differing world views
President Donald Trump told Asian nations that the U.S. would seek bilateral trade deals rather than agree to multilateral pacts like the Trans-Pacific Partnership, and only if countries "abide by the principle of fair and reciprocal trade." Chinese President Xi Jinping, speaking after Trump at the same conference in Danang, Vietnam, offered a different view of the future saying an open economy brings progress "while self-seclusion leaves one behind." For Asia, the focus remains on saving the TPP.
Man of his word
Xi Jinping has backed up his call for economic openness with action, with Beijing announcing a major step towards opening its financial system. Foreign-ownership limits of Chinese banks and asset-management companies will be removed, allowing overseas firms to take majority stakes. Chinese Vice Premier Wang Yang pledged to improve the investment climate, and to treat all companies equally. While shares in Shanghai outperformed their regional counterparts following the announcement, Chinese stocks still have a long way to go. 
Differing plans, same problem
The House and Senate tax plans both have one major problem: too much red ink. Should the bill raise the deficit by more than $1.5 trillion over 10 years, it would need an almost-impossible 60 votes in the Senate to pass. Among the proposals to avoid running into that legislative limit is a possible one-year delay to the implementation of corporate tax cuts as well as fully repealing the state and local deductions that benefit individuals in high-tax areas. As the horse-trading continues, the countdown to a December government shutdown ticks away. 
Markets slip, again
Overnight, the MSCI Asia Pacific Index dropped 0.4 percent, with Japan's Topix index closing 0.7 percent lower as Asian markets took their lead from U.S. equities. In Europe, the Stoxx 600 Index was 0.3 percent lower at 5:50 a.m. Eastern Time, adding to a three-day selloff. S&P 500 futures were down 0.3 percent, and the 10-year Treasury yield was at 2.375 percent.
Border trouble
The border between the Republic of Ireland and Northern Ireland is the latest roadblock in Brexit talks. The EU says there can be no physical border if Northern Ireland is to maintain the rules of the customs union and single market, something which would be impossible unless the whole of the U.K. remains within the customs union -- a prospect Prime Minister Theresa May has ruled out. Britain's chief negotiator David Davis, meanwhile, said the U.K. is determined to protect London's financial district as signs emerge that global banks are accelerating plans to move operations elsewhere. John Kerr, who helped draft the rules on leaving the European Union, said that Brexit is still reversible, and that Britons should be given the right to change their minds. 
What we've been reading
This is what's caught our eye over the last 24 hours.
Before it's here, it's on the Bloomberg Terminal.
LEARN MORE