Art
Da Vinci, Ferrari Are Star Attractions at $1.6 Billion Auctions
By
Sellers include billionaires Paul Allen, Dmitry Rybolovlev

Blockbuster works lead Sotheby's, Christie's New York sales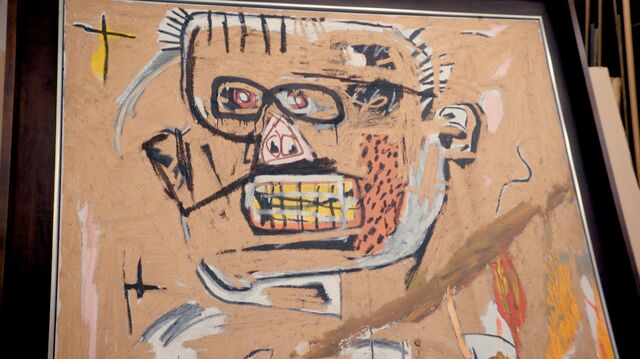 Call it the art market's Disneyland.
With a rediscovered Leonardo Da Vinci and racing driver Michael Schumacher's red Ferrari, next week's art auctions in New York are shaping up to be a spectacle.
Traditionally, the sales at Christie's, Sotheby's and Phillips each May and November focus on Impressionist, modern, postwar and contemporary works. In recent years, as new buyers from Asia and other emerging economies poured into the market, the auction houses have expanded those boundaries.
Next week, they're going even further. Christie's is offering Da Vinci's 500-year-old "Christ as Salvator Mundi" in its evening sale of postwar and contemporary art, while Sotheby's will debut the Grand Prix winning Ferrari amid paintings by Francis Bacon and Andy Warhol. Not everyone is thrilled.

"There used to be some sophistication and elegance as to how these sales were assembled," said Todd Levin, who runs his own art advisory firm. "Now it's just whatever is expensive, let's sell it."
With auctions that begin on Monday, works with a total estimated value of $1.6 billion, about 45 percent more than last year's sales, will be offered.
Here are the highlights:
The Da Vinci is being sold by Russian billionaire Dmitry Rybolovlev's family trust. He purchased it for $127.5 million in 2013 and it's been at the heart of an international legal battle. The work, which belonged to King Charles I, disappeared around 1900. Then in 2005 it was purchased at an estate sale and, after six years of research and restoration, attributed to Da Vinci, the first such rediscovery in more than 100 years.
It's estimated to sell for $100 million. Christie's will auction it on Nov. 15 and the work already has an irrevocable bid by an anonymous investor, which means it's sure to sell.

Another Da Vinci, "The Last Supper," was the inspiration for Warhol's 32-foot-wide canvas depicting the famous scene 60 times as a massive black and white grid. The 1986 work is estimated at $50 million for the Christie's sale on Nov. 15.

Vincent Van Gogh's 1889 landscape, "Laboureur dans un champ," will star in Christie's Impressionist and modern art auction Nov. 13. Estimated at about $50 million, it's part of a collection assembled by Texas billionaires Nancy Lee Bass and Perry Bass.

Francis Bacon's "Three Studies of George Dyer" appears in public for the first time in 50 years. Estimated at $35 million to $45 million, the 1966 triptych carries the highest estimate of Sotheby's auction week. It's being offered on Nov. 16.

Peter Doig's "Red House" will lead sales at Phillips on Nov. 16, just six months after the auction house achieved a $28.8 million record for the Scottish-born artist. This work is estimated at $18 million to $22 million.

Schumacher's Ferrari will mark the first time a collector car will be offered at a Sotheby's art auction. Estimated at $4 million to $5.5 million, the Ferrari F2001, Chassis No. 211, was driven by the racing legend to win the Grand Prix de Monaco. The sale is Nov. 16.

Georgia O'Keeffe's "Yellow Sweet Peas" is among a group of paintings being sold by billionaire Microsoft Corp. co-founder Paul Allen. It's estimated at $2.5 million to $3.5 million and will be offered Nov. 14 at Sotheby's.
Before it's here, it's on the Bloomberg Terminal.
LEARN MORE