Technology
Bike-Sharing Upstarts Are Flooding Europe With Cheap Cycles
Dockless systems present a big challenge to older operators—and the cities they serve.
By , , and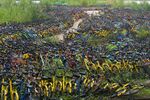 Until last summer, bike-sharing in Munich was an orderly undertaking: Two competing systems offered a total of 2,400 two-wheelers that riders could pick up at about 100 locations around the city. Then in September, after a company called OBike dropped 7,000 bright yellow rental cycles on sidewalks and streets across town, residents began complaining about bikes piling up outside subway stations and clogging parking spots. "Things began spiraling out of control," says Florian Paul, the city official who oversees cycling programs. "It just overwhelmed people."
Companies such as OBike, based in Singapore, and China's Ofo and Mobike, are moving aggressively into cities across Europe and the U.S. with app-based services that let customers find the nearest bike and leave it wherever they want after use. That contrasts with older programs such as New York City's Citibike and Paris's Vélib', which require users to pick up and return bikes at docking stations. "I'd rather grab and drop off my bike wherever I want," says Victor-Jules Lefranc, a 21-year-old student in the French city of Lille, who rents from GoBee.bike, a Hong Kong company that launched a dockless service in Lille this fall.
While most U.S. and European bike-sharing is overseen by local governments, the newcomers are strictly private—and extremely well-financed. Ofo and Mobike have deployed 13 million cycles worldwide after raising a total of $2.3 billion from backers such as Chinese internet giants Alibaba Group Holding Ltd. and Tencent Holdings Ltd. Docking station systems are "very expensive to expand, while we are immediate and flexible," says Chris Martin, vice president for international expansion at Mobike.

His company started operating in Washington, D.C., in September and is also in the U.K., Italy, and the Netherlands. Ofo has bikes in seven U.S. metro areas and three in Britain and plans to start in the Continent by yearend. GoBee operates in France and Italy and says it's in talks with more than 20 European cities. And OBike, which already rents cycles in a half-dozen countries across Europe, said on Nov. 9 that it's adding 10 more.
European cities are starting to push back as the companies sometimes start renting bikes without consulting local authorities. Amsterdam ordered dockless sharing companies to remove their bikes from the city by Nov. 3, saying it needs time to develop regulations. Paris Mayor Anne Hidalgo has summoned the operators to a Nov. 16 meeting to explain how they'll handle abandoned and damaged cycles. "Bikes are piling up," says Catherine Baratti-Elbaz, head of a panel that oversees Paris's bike- and car-sharing programs. "We need to be vigilant and supervise these companies."
In China, where many of the newcomers got their start, cities have struggled with a surplus of shared bikes. The central Chinese city of Wuhan, with a population slightly larger than New York City's, has some 700,000 shared bikes, vs. Citibike's 10,000 and the 24,000 offered by Vélib' in Paris. As tangled piles of discarded bikes have appeared on sidewalks and in parks and public squares, authorities in Beijing, Shanghai, and at least five other cities have barred operators from adding to their fleets.
Established bike-share programs may struggle to compete with upstarts that avoid the costs of docking systems, says Alexander Dyskin, a transportation consultant at Roland Berger GmbH in Düsseldorf. Mobike, for example, charges $1 for 30 minutes in Washington, while the government-sanctioned Capital Bikeshare charges $2 for 30 minutes or $8 for a 24-hour pass. Still, cities must find a way to cooperate with dockless operators because they offer a "more sophisticated business model" that increases convenience for riders, Dyskin says.
Bluegogo, another Chinese startup, drew criticism when it began renting last winter in San Francisco without alerting local authorities and later removed its bikes from the city. "To have somebody come in and dump bikes without pulling a permit or talking to anybody was controversial," says Jason Henderson, a San Francisco State University professor who studies urban mobility. But, he says, many low-density neighborhoods aren't served by Ford GoBike, the city-authorized provider, making them fertile territory for the new systems.
Dockless operators say they're working to avoid the problems experienced in China. Some charge extra fees to renters who don't return bikes to designated locations. Ofo plans to encourage U.S. customers "to do the right thing" by giving discounts to people who report abandoned bikes and banning those who leave them in inappropriate places, says Grace Lin, the company's U.S. vice president. And after the outcry in Munich, OBike says it's been working with authorities to ensure compliance with local regulations. "The company is trying to learn from its mistakes," says Paul, the city bicycling chief. "We're observing the situation very carefully." —With Joost Akkermans and Yuan Gao
BOTTOM LINE -
Upstart bike-sharing systems have raised billions in capital and deployed millions of cycles. But European cities are starting to push back against the chaos.
Before it's here, it's on the Bloomberg Terminal.
LEARN MORE