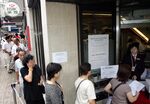 Now this is not the end. It is not even the beginning of the end. But it is, perhaps, the end of the beginning.
Like military campaigns, market cycles are subject to uncertainty in their duration. Winston Churchill's famous admonition was an attempt to damp euphoria after the Allied victory at El Alamein in 1942, knowing of the long, hard slog that lay ahead. We could just as well apply it to the latest wave of elation sweeping through Hong Kong's stock market.
IPO fever is back. The retail portion of China Literature Ltd.'s initial public offering was more than 600 times oversubscribed, locking up at least HK$520 billion ($67 billion), or one-third of the city's monetary base, according to the South China Morning Post. The e-book company's shares closed 86 percent higher on their first day of trading. The benchmark Hang Seng Index has climbed 31 percent so far in 2017, on course for its biggest annual gain in eight years.
Hot IPOs typically have presaged market tops. But where does China Literature place us on the wheel of bull market longevity? Are we in North Africa; on the beaches in Normandy; or already at the gates of the Reichstag?
Some historical context can help. Hong Kong's past three record bull runs stretching back two decades all featured landmark IPOs that captured the zeitgeist and preceded an eventual slump.
In 1997, it was Beijing Enterprises Holdings Ltd. Months before China's resumption of sovereignty over Hong Kong, the arm of the capital city's government exemplified one of the first bouts of speculative fervor over the country's growth. Investors bid for 1,250 times the shares on offer.

Individuals applied for HK$234 billion of stock, causing Hong Kong's overnight interbank rate to rise the most in at least two years. That was almost certainly a more significant chunk than the China Literature sum -- Hong Kong's monetary base has expanded more than sevenfold since early 2002, the earliest date for which data are available.
Beijing Enterprises started trading on May 29, 1997, and the Hang Seng Index peaked on Aug. 7. By August 1998 the gauge had fallen 60 percent.
Move on to 2000, and Hong Kong stocks were off to the races again, buoyed by the U.S. internet bubble. This time, the emblematic IPO was tycoon Li Ka-shing's Tom.com.
Hundreds lined up outside HSBC's main branch for the sale, snapping up all 50,000 copies of the prospectus within two hours in a response unseen since the frenzy of 1997, Bloomberg reported. The offering attracted bids for 670 times the shares available.

The Hang Seng Index peaked on March 28, less than a month later, at a record 18,301. By the end of May it was down 25 percent, as the internet boom cracked in the U.S. The index eventually lost more than half its value and didn't set another record until 2007.
The closest thing to an iconic 2007 IPO was Alibaba.com Ltd., the first public incarnation of Jack Ma's e-commerce behemoth. (Much of the 2007 rally was driven by stocks mania across the border in China, where PetroChina Co.'s share sale helped make it the world's first $1 trillion company.)
Alibaba.com sold $1.5 billion of stock on Oct. 29 after applications from individuals for more than 250 times the stock on offer. That was the day before the Hong Kong market peaked. Alibaba.com shares started trading on Nov. 6, and almost tripled. Within a year, the Hang Seng Index had lost 65 percent. 

The question now for investors is how closely China Literature matches these examples.
Certainly, there are echoes. But is China Literature the Beijing Enterprises of 2017, or more the Gitic Enterprises Ltd. of its time? Gitic drew applications for 892 times the shares available in March 1997. China Literature's IPO was undoubtedly hot, but perhaps there are hotter ones coming.
Gadfly's Nisha Gopalan, with two decades following Hong Kong share sales, says this party has barely started, with offerings only recently recording the first-day trading pops that characterize boom times. 1  Once the IPO machine has cranked up, it generally runs for several months at least.
Another thing: The Hang Seng Index remains about 8 percent below its 2007 record and looks unextended both on a fundamental basis (forward price-earnings ratio of 13 and current dividend yield of 3.5 percent) and a technical basis.
So here's this Gadfly's take: Give the bull market at least another month, but probably less than a year. 
History doesn't repeat, but it often rhymes. There are sexier IPOs than China Literature in the pipeline, and the sexiest of all is Ant Financial, the payments affiliate of Alibaba Group Holding Ltd., which may go public next year. A decade after Jack Ma signaled the end of the last record run, he might do it again.
D-Day is coming, but not just yet.
Debut gains were so rare in 2015 that China Huarong Asset Management Co.'s 0.32 percent rise was sufficient to put it into the top 10 for that year, the Financial Times reported.
Before it's here, it's on the Bloomberg Terminal.
LEARN MORE