U.K.'s Cars Getting Older May Make Halfords an Unlikely Winner
By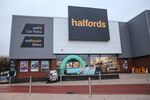 A sharp slowdown in U.K. new car sales has left dealership stocks reeling in recent weeks as hard-pressed Britons hold onto their old cars for longer.
The likes of Pendragon Plc and Lookers Plc have seen their shares hit hard, and the same was true of Halfords Group Plc on Thursday as the retailer said a falling pound hit first-half profit. Yet the auto-parts seller could be among those companies that will benefit most from the country's aging car fleet as it supplies parts to keep those vehicles on the road.
The average age of cars on U.K. roads has increased from 6.7 years in 2006 to 8 years in 2016, Halfords said Thursday, citing government data.

"This is a positive trend for Halfords given that we predominantly support cars that are over three years old, what we call the second life of the car," the retailer said.
Before it's here, it's on the Bloomberg Terminal.
LEARN MORE