Turnaround Titan Wilder Leaves Driller Exploring Bankruptcy
By
Wilder helped lead TXU Energy through brink of insolvency

He was selected by Wilbur Ross as chairman of driller in 2015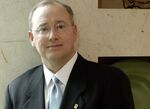 The turnaround titan that investor Wilbur L. Ross handpicked to help revive a battered natural gas driller in Texas has resigned from the company just two days after it disclosed a potential bankruptcy.
C. John Wilder stepped down as executive chairman of Exco Resources Inc. on Thursday, the Dallas-based company said in a statement. Exco and Wilder's Energy Strategic Advisory Services LLC agreed to suspend their work together as part of his resignation.
Before becoming U.S. commerce secretary, Ross heavily invested in Exco and chose Wilder two years ago to help improve the driller's finances. Low oil and natural gas prices instead continued to weigh on the explorer, and a major deal to sell some of the company's assets in South Texas fell through earlier this year. On Tuesday, Exco said it had hired advisers and was considering a Chapter 11 bankruptcy.
The driller fell as much as 13 percent Friday to 87 cents. The stock has plunged 93 percent so far this year.
Wilder's departure was not the result of any disagreement, according to the company's statement. He's better known as the energy veteran who pulled the Texas utility TXU Corp. from the brink of insolvency more than a decade ago, and then made a fortune selling it to a group including KKR & Co. in one of the biggest leveraged buyouts in history.
In an interview last year, Ross praised Wilder for downsizing the company by cutting its capital spending and headcount. "There are no longer any fundamental issues idiosyncratic to Exco that are within its own control," he said at the time.
— With assistance by Ryan Collins
Before it's here, it's on the Bloomberg Terminal.
LEARN MORE