Trump Hits China for Unfair Trade But Blames Past U.S. Leaders
By and
Trump speaks at business event alongside Chinese President Xi

Business deals of more than $250 billion announced at event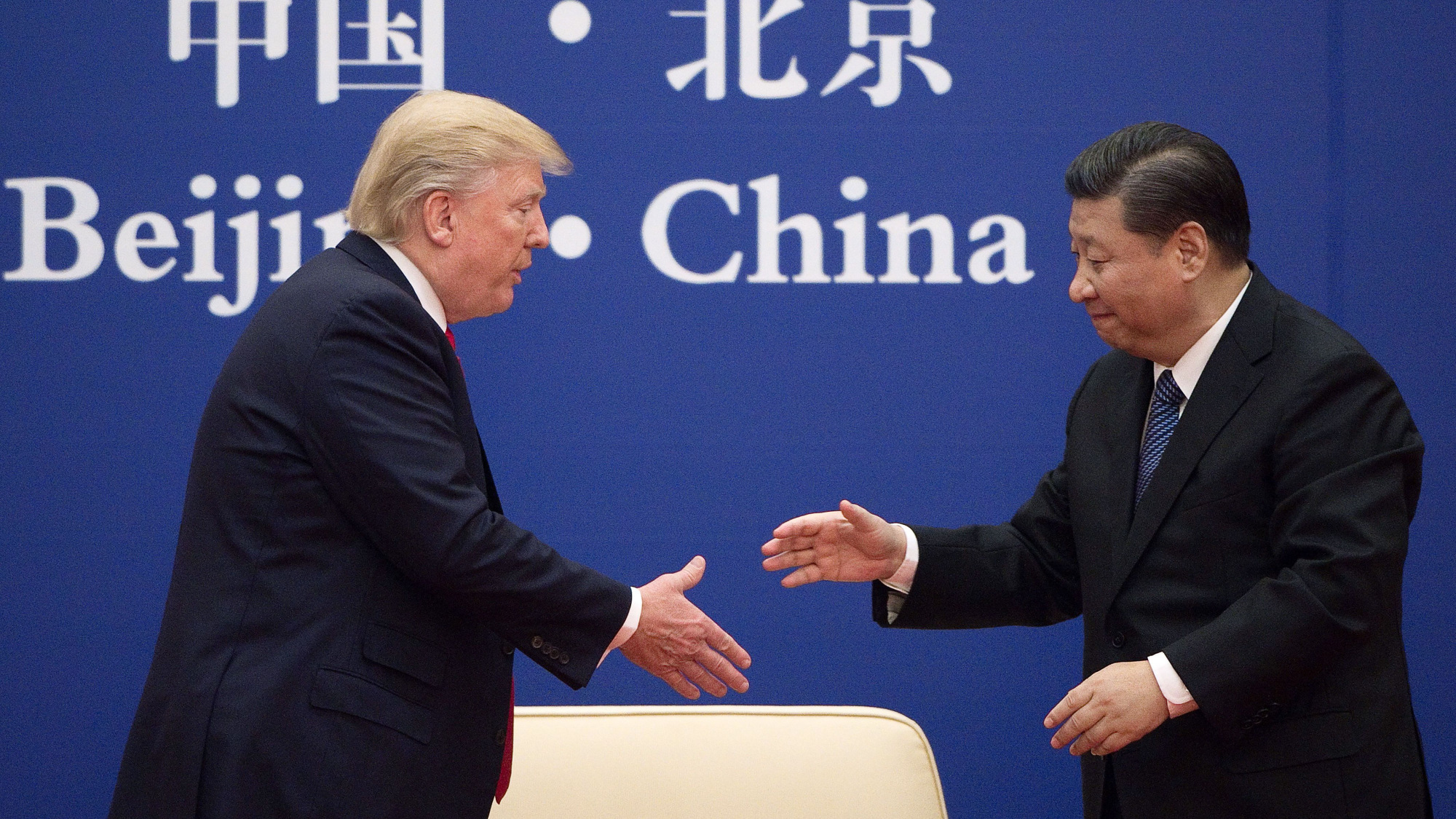 Get the latest on our coverage of Trump in Asia and the world leaders' meeting in Vietnam in your inbox daily. Sign up here.
President Donald Trump said China is taking advantage of American workers and American companies with unfair trade practices, but he blamed his predecessors in the White House rather than China for allowing the massive U.S. trade deficit to grow.
Speaking alongside President Xi Jinping on Thursday at a briefing in Beijing, Trump's words were in contrast to what he said was a "very good chemistry" between the two leaders as they announced $250 billion in investment deals, many of which came in the form of tentative agreements.
But Trump's comments amounted to a sharp critique of what he labeled predatory Chinese policies that tilted the benefits of trade away from the U.S. economy.
The trade relationship "between China and the U.S. has not been a very fair one, as we all know America has a huge annual trade deficit with China, a number beyond anything that anyone would understand," Trump said. "Both the United States and China will have a more prosperous future if we can achieve a more level playing field."
Trump attempted to shift the blame away from Xi to prior U.S. leaders, saying they had mishandled the problem. "After all, who can blame a country for being able to take advantage of another country for the benefit of its citizens. I give China great credit, but in actuality I do blame past administrations for allowing this out-of-control trade deficit to take place," Trump said. "It is just not sustainable."
Read more: Trump's $250 Billion China Haul Is Big Number, Little Substance
Xi nodded as Trump said he doesn't blame China for the trade imbalance. In his own remarks, he did not address Trump's charges of unfair trade practices directly but said he is committed to opening up his economy. He cited the new deals as "great examples" of the potential "win-win nature" of ties.
Xi said China will take "big strides in reform" in coming years and that foreign companies in China will find the business environment more transparent and more orderly.
He added that China is willing to significantly increase imports of U.S. energy and agricultural products, as well as movies. Xi said U.S. financial institutions were welcome to invest in the Belt And Road initiative -- China's policy to boost trade and investment along traditional trade routes to Europe by improving infrastructure.
Periodic Differences
"We may have differences from time to time," Xi said, but both nations will gain from increased trade.
In later joint statements, Trump and Xi both said they're committed to forcing North Korea to give up its nuclear weapons, even as the Chinese leader publicly offered no new initiatives to crack down on regime in Pyongyang.
Trump said the two countries had agreed to increase economic pressure until North Korea abandons its weapons program and called on all nations to stop arming or trading with it.
"As long as we stand together, with others if necessary, against those who threaten our civilization, that threat will never happen," Trump said of the notion of nuclear conflict with North Korea. "It doesn't even have a chance."
But Xi, in his comments, offered the standard formulation about the Chinese approach to North Korea: "On the Korean peninsula nuclear issue, we reiterated the firm commitment to achieving denuclearization of the peninsula and upholding the international non-proliferation regime," Xi said.
He also noted: "As two distinctive countries our two sides may have different views or differences on some issues. This is only natural. The key is to properly handle and manage them. There are far more common interests between our two countries than differences."
— With assistance by Keith Zhai, Peter Martin, Ting Shi, and David Ramli
Before it's here, it's on the Bloomberg Terminal.
LEARN MORE