Trump Election Commission Sued by Democratic Member
By
Maine official says it's been two months since heard from them

Bi-partisan panel drafted to assess election, voting integrity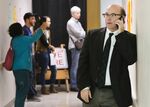 Matthew Dunlap, one of four remaining Democratic members of President Donald Trump's election integrity commission, sued the panel's top officials including Vice President Mike Pence and Kansas Republican Kris Kobach, saying they've shut him out of the panel.
Dunlap, an outspoken critic of the commission's Republican majority's tactics, filed a federal court complaint Thursday in Washington, demanding the panel be compelled to conduct its business fairly and with his full participation.
That will be essential to "allow me and all of my fellow commissioners to fulfill our roles as full participating members and provide a meaningful report to the President," Dunlap said in a statement announcing the lawsuit.
The named defendants are Pence, the panel's chairman; Kobach, the secretary of state for Kansas who serves as vice chairman; and the day-to-day operations manager, Andrew Kossack. Originally five of the 12 members were Democrats, but one died recently. Dunlap is the secretary of state for Maine and Kobach, a Republican, holds the same post in Kansas.
Trump chartered the commission earlier this year, saying the 2016 vote was riddled with fraudulently cast ballots. The members were tasked with studying state and federal voting procedures and recommending ways to enhance confidence in the system. It's held two public meetings, one at the White House and the second in New Hampshire, where picket signs greeted them and state officials defended their safeguards and said there was little proof to back up the allegations.
Click here for more on the New Hampshire meeting
Dunlap says he's heard nothing since the last meeting in September other than an acknowledgment that they'd received his letter in October asking why he hadn't heard anything from them.
The Justice Department and White House didn't immediately respond to requests for comment.
The case is Dunlap v. Presidential Advisory Commission on Election Integrity, 17-cv-2361, U.S. District Court, District of Columbia (Washington).
Before it's here, it's on the Bloomberg Terminal.
LEARN MORE