Trump and Blankfein Have a 'Lot of Similarities,' Cohn Says
By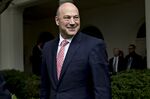 Gary Cohn, who was deputy to Goldman Sachs Group Inc. Chief Executive Officer Lloyd Blankfein before becoming President Donald Trump's top economic adviser, said his two most recent bosses have "a lot of similarities."
"They're both very driven, they're both very passionate, they both strongly believe in what they're doing," Cohn said Thursday in a CNBC interview. "Their core messaging is very similar. They come into the office with passion every day. They are both driven by the mission and feel like they need to get the mission accomplished day in and day out."
Blankfein and Trump both address the needs of their clients, Cohn said. In Trump's case, those are voters who want to hear from him. In Blankfein's, they're corporations who would rather he stay out of the limelight.
"One's an elected official with a very public persona, one's a CEO with a fairly private persona," Cohn said. "They both understand who their client base is, and they manage their client base effectively."
Blankfein joined Trump on a trip to China this week.
Before it's here, it's on the Bloomberg Terminal.
LEARN MORE