This Is the Asset to Watch When Putin Meets Trump for Second Time
By
Micex Index enters bull market on eve of possible meeting

Stock gauge has tracked ups and downs of countries' relations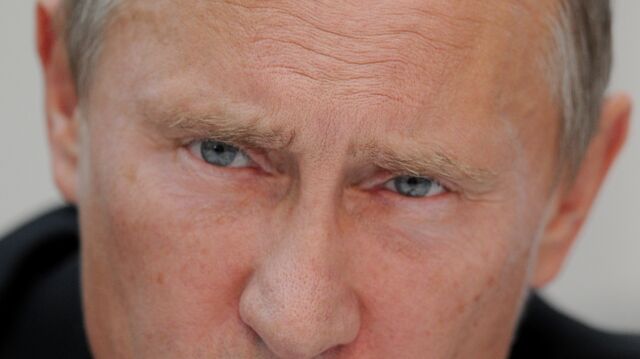 No asset has told the story of Donald Trump's tumultuous relationship with President Vladimir Putin better than Russia's equity index.
The Micex Index shot to a record high after Trump's election a year ago ushered in hopes of a reset in relations between the two former Cold War foes. By the time the leaders held their first meeting in July, relations had soured and the gauge had plummeted into a bear market amid the threat of tighter sanctions.

Now equity investors are watching closely ahead of a possible meeting between the two on the sidelines of the Asia-Pacific Economic Cooperation summit in Danang, Vietnam on Friday. The stakes are high after traders piled into the nation's stocks in recent weeks amid a surge in oil prices, pushing the index into a bull market.
Whether the meeting will take place or not is still up in the air. While the White House said Friday that a scheduling conflict will prevent a formal meeting from taking place, both sides have indicated that the leaders are still likely to meet. Kremlin spokesman Dmitry Peskov told Bloomberg that consultations are continuing but "no final understanding" has been reached.
The Micex was little changed at 11:47 a.m. in Moscow on Friday after advancing 5 percent this week. The index closed in a bull market on Thursday after climbing 20 percent from this year's low in June.
After promising in his election campaign to restore battered relations with Russia, Trump has done the opposite in his first year in office. In August he was forced to sign a new law to tighten penalties against Russia in response to alleged interference in the vote. Now investors are waiting for the results of an investigation into that meddling that could dent relations even further.
Read More: House to Query Russian-American Lobbyist on Trump Jr. Meeting
"The possibility of those sanctions being extended next year is a matter for the market to address when the time comes," said Julian Rimmer, an emerging-markets trader at Investec Bank Plc in London. "The U.S. antipathy towards Russia is calcifying rather than diminishing."
Before it's here, it's on the Bloomberg Terminal.
LEARN MORE