Senate Clears Way for Ex-Mnuchin Deputy to Lead Bank Regulator
By and
Former OneWest CEO Joseph Otting would become head of OCC

Elizabeth Warren has tried to slow Otting's confirmation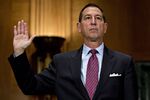 Senate Republicans have initiated the process of confirming Joseph Otting, a former deputy to Treasury Secretary Steven Mnuchin at OneWest Bank, to lead one of Wall Street's top regulators.
Senate Majority Leader Mitch McConnell has filed a motion to kick off debate and an eventual vote to appoint Otting as head of the Office of the Comptroller of the Currency. It will likely take several days before lawmakers consider Otting's nomination and they will have to spend 30 hours of floor time debating the selection before a vote.
As OCC chief, Otting would play a key role in rolling back post-crisis rules that the Trump administration and Republican lawmakers blame for holding back the economy. President Donald Trump first nominated Otting in June and he cleared the Senate Banking Committee in September with bipartisan support.
Otting is a former banker, having led OneWest as chief executive officer when Mnuchin was chairman. Democrats including Senator Elizabeth Warren, one of Wall Street's loudest critics in Congress, have questioned OneWest's home foreclosure practices when Otting and Mnuchin were running the lender. This week, Warren tried to block an earlier attempt to bring Otting's nomination to the Senate floor.
Otting's OCC stand-in, Keith Noreika, has drawn attention from the industry and consumer advocates for trying to ease oversight of banks in the few months he's served as acting head of the agency. Installed by Mnuchin in May without Senate confirmation, Noreika has clashed with the director of Consumer Financial Protection Bureau, led efforts to water down the Volcker Rule and argued for reconsidering the traditional separation of banking and commerce.
Before it's here, it's on the Bloomberg Terminal.
LEARN MORE