Lawyer at Center of Russia Meddling Probe Looms Over Fraud Hearing
By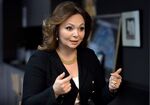 Natalia Veselnitskaya, the lawyer at the center of a U.S. investigation into Russia's meddling in the 2016 presidential vote, loomed over a New York court hearing late Thursday much the same way she has loomed over a U.S. election scandal for much of this year: silently and mysteriously.
Veselnitskaya represents Russian-led Prevezon Holdings, which settled a U.S. suit in May in which it had been accused of using illicit proceeds from a $230 million Russian tax fraud to buy real estate in New York.
U.S. lawyers say Prevezon failed to pay a $5.9 million settlement by the deadline, and will seek an order from a judge forcing the company to pay up. Prevezon maintains the payment isn't yet due.
The case is a flashpoint in U.S.'s relationship with Russia. The tax fraud victimized an investment fund and led to the eventual U.S. adoption of the Magnitsky Act, which imposed sanctions on Russians accused of being involved. Veselnitskaya allegedly sought in a meeting with Donald Trump Jr. and other Trump campaign officials to persuade them to agree to lift the sanctions if they won the election and offered damaging information about Hillary Clinton in exchange.
Veselnitskaya was allowed to call into the hearing from Russia, after an earlier request to permit her attendance in person was denied. Though Judge William H. Pauley and lawyers said she was listening, she never spoke during the half-hour proceeding.
Pauley issued no rulings. Both sides were given deadlines to submit additional court filings on the dispute over the settlement payment.
Trump Jr Hinted at Review of Anti-Russia Law, Moscow Lawyer Says
Before it's here, it's on the Bloomberg Terminal.
LEARN MORE