Round Numbers Are Another Problem for S&P 500 Buffeted by Tax Debate
By
Earnings season mostly over while tax reform makes no progress

Weakness in banks, small caps show sign of investor anxiety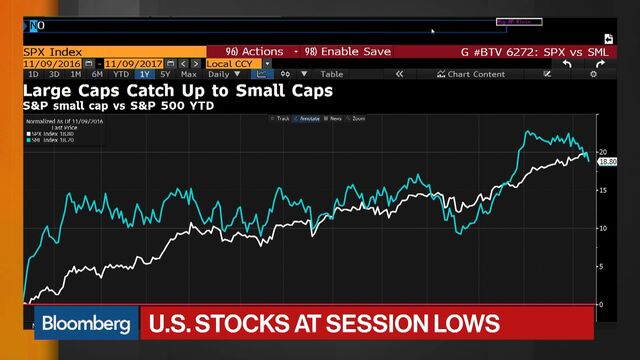 Just when another round-number milestone seemed inevitable, U.S. stocks faltered and headed for the biggest drop in more than two months.
Yes, fresh concern that Republicans will fail to pass tax reform this year exacerbated Thursday's selloff, and there's no shortage of reasons investors can point to for bailing out of an equity market that has gone longer than ever without a retreat of 3 percent. 
But bumping up against round numbers has often slowed even the most torrid advances during the eight-year bull market -- the S&P 500 Index needed weeks to take out the past two 100-point gaps once it got within striking distance. It slumped 0.7 percent to 2,575 as of 1 p.m. in New York, after closing Wednesday six points short of 2,600.
The latest barrier could hardly have arrived at a worse time. The wrangling over tax cuts has hit economically sensitive banks and small caps, while tech shares are coming off a rally that stretched valuations to levels last seen almost 20 years ago. The flattest yield curve in a decade rekindled fear that economic growth may slow, while a deepening selloff in high yield-bonds points to signs of credit stress. 
"Could you see people put more capital to use and stretch the trading further?" Dubravko Lakos-Bujas, an equity strategist at JPMorgan Chase & Co., said in an interview on Bloomberg Television. "You could, but I think you need a clear catalyst. Most of the capital  has been largely put to use."
Reasons to jump back in appear limited, at least in the short term. Third-quarter earnings season is almost over, with 90 percent of companies done reporting. While Wall Street strategists such as Lakos-Bujas expect tax cuts to lift 2018 earnings, passage remains anything but certain. What's worse, almost all bears have turned into bulls, leaving the market vulnerable should sentiment start to sour.
One indicator of investor complacency can be found in the Investors Intelligence's weekly survey of newsletter writers. Last week, the proportion of bulls increased to 64.4 percent, outnumbering bears by a margin of 4.5-to-1. That's the biggest since 1987.
Anxiety started creeping into the market earlier in the week, only to come roaring back Thursday. The Cboe VIX index, a gauge of options cost to hedge against S&P 500 losses, surged 21 percent, the most since August as it heads for the highest close in two months..
While the benchmark for American equity is still within 1 percent of a record high, cracks are showing underneath the surface. The KBW Bank Index, a harbinger of bets on an economic rebound, has fallen five straight days, heading for its worst week since March. The Russell 2000 Index of small-cap companies is down three weeks in a row, the longest retreat since August.
Thursday's slump put the S&P 500 on course for its first weekly decline in eight. The level of 2,600 is the fourth 100-point milestone that the S&P 500 has sought to take out this year. The last two round numbers took more than one run to sustain. The gauge crossed 2,400 for the first time on May 15, dipped below that level two days and didn't come back to it until one week later. Its test on 2,500 lasted about two weeks in September.
"There could be a 3 to 5 percent pullback in the context of a positive fundamental backdrop that could feel like a crash due to the historically low volatility," said Tony Dwyer, an equity strategist at Canaccord Genuity Inc.
Before it's here, it's on the Bloomberg Terminal.
LEARN MORE