Mulvaney Says Administration Wouldn't Oppose Corporate Tax Cut Delay
By
White House budget director says delay not a deal-killer

Says delayed corporate rate cut could boost economy more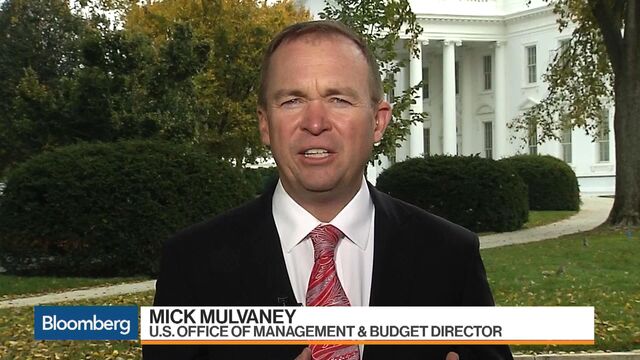 White House Budget Director Mick Mulvaney said the Trump administration wouldn't oppose delaying a cut in corporate tax rates until 2019.
The Senate version of the Republican tax overhaul will delay the corporate rate cut to 20 percent until Jan. 1, 2019, according to Senator Bill Cassidy, a Louisiana Republican. The move would defy President Donald Trump's call for a cut from its current 35 percent rate to take effect immediately.
"There's good arguments in favor of both" an immediate cut and a delay until 2019, Mulvaney told Bloomberg Television on Thursday. "This is where we're sort of stepping back and saying look, what do you need on Capitol Hill to pass a bill?"
Neither the postponement of the corporate tax rate cut nor other changes that have surfaced so far in Republican-backed legislation "are deal-killers for us," he added.
Mulvaney added that a one-year delay in a corporate tax rate reduction might do more to encourage economic growth because businesses would have an incentive to accelerate investments so they could deduct the cost against a higher tax rate.
"I heard some really interesting arguments just in the last hour about how some folks think that might actually spur more economic activity in 2018 because businesses would be interested in pushing even more investment into 2018 so they could take the write-off at that higher 35 percent rate," Mulvaney said. "That's a very compelling argument."
Before it's here, it's on the Bloomberg Terminal.
LEARN MORE