Malaysia Gives Working Moms Better Maternity Deal Than the U.S.
By
Tax breaks, longer maternity leave among proposed initiatives

Nation's female labor participation one of East Asia's lowest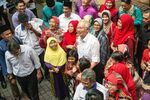 Malaysian Prime Minister Najib Razak laid out his economic plans for next year in what he called the "mother of all budgets." It could've easily been described as a budget for all mothers as well.
In a country where women are likely to drop out of the labor force when they have children, Najib is making a push to reverse that. He's giving women a one-year tax exemption if they return to work after a break of two years or more, offering longer paid maternity leave for some and reducing working hours for others. In the U.S., there's no national requirement for paid maternity leave.
If he gets it right, he'll be able to address a broader economic problem dogging the country: raising productivity that could help get Malaysia out of its middle-income trap. It also shores up his support as he gears up for one of his toughest election fights yet.
Malaysia is losing out to low-cost and low-end manufacturing newcomers like Vietnam, but lacks the kind of skills and innovation that's propelled Singapore and South Korea to more advanced status. Najib's target is to make Malaysia a high-income country in the next three years, a feat that would require boosting per-capita income to $12,476 -- which is the level the World Bank uses to define a high-income nation -- from about $10,000 now.
Getting more women into the labor force is one way Najib could do that. Studies cited by the International Monetary Fund show that raising the participation of women to the same levels of males has the potential to boost gross domestic product: by 5 percent in the U.S., 9 percent in Japan, 12 percent in the United Arab Emirates and 34 percent in Egypt.

Malaysia has the lowest ranking among the main Southeast Asian nations when it comes to female participation in the labor force, at 49 percent, according to data from the World Bank. It also lags the U.S., the U.K. and many East Asian economies. That's despite the fact that the country's public universities produced 80 percent more female graduates than males last year.
The outperformance of women in education led Najib to quip in September "what has happened to men?" A more compelling question could've been: what's happened to all the educated women?
In a country of 32 million people, about 4.8 million women of working age are categorized as being outside of the labor force, meaning they aren't employed or unemployed, and includes housewives, students, retirees, and those not interested in looking for a job. The number is more than twice that of men in the same category.
Sick Kids
For mothers like Sarah Kamaruddin, a 36-year-old former English teacher who lives near the capital Kuala Lumpur, childcare responsibilities are the No. 1 reason why educated women in Malaysia drop out of the workforce in droves, as academic studies have shown. She said she left her job of eight years at a private school to stay home and provide better care to her two children after they kept falling ill and picked up bad language at the babysitter's.
A 2016 paper titled "Malaysian female graduates: Marriage, motherhood and labor force participation," bears out Sarah's experience. In-depth interviews by the researchers revealed that Malaysian women with young children didn't trust helpers at daycare centers or live-in maids to provide the best care.
In the budget, Najib proposed raising maternity leave for women in the private sector to 90 days, matching what those in the civil service already get. Those in the government will also get more total maternity leave throughout their career and can work shorter hours from their fifth month of pregnancy. Najib also made it mandatory for all new office buildings to have childcare facilities.
In the U.S., only about 13 percent of private-sector workers have access to paid family leave for childbirth and child care, depending on state and company policies. In January 2016, then-President Barack Obama granted federal workers six weeks of paid leave after the birth or adoption of a child or to care for a sick family member.
Single Income
After she quit three years ago, Sarah and her husband struggled for a while to adjust to a single income, cutting down on restaurants, shopping and vacations. She's in favor of Najib's measures, especially creating daycare centers, and said she may consider returning to work if the pay and flexible hours were suitable.
"My mind would be at ease and I would be motivated to work, as I don't have to constantly worry about my kids," she said.
If she does return to work, Sarah would face another problem that women across the world experience in their jobs: discrimination. At her previous workplace, she said promotions were usually offered to men and single women, the excuse being that "married women are not flexible and always distracted."
Men outnumber women in management roles in Malaysia at a ratio of more than two to one, official data shows. And they are paid better, at 7,235 ringgit ($1,720) on average a month, compared to 6,345 ringgit for women.
To address that, Najib said in September he would name and shame publicly-listed companies with no women on their boards starting from next year. In his budget speech, he reiterated a 30 percent minimum for women on boards of state companies and set aside 20 million ringgit for entrepreneurship training for females.
Najib's initiatives are "definitely encouraging," said Julia Goh, an economist at United Overseas Bank Ltd. in Kuala Lumpur. "It's moving in line with the trends we are seeing now in trying to get women to contribute more to the economy and society."
— With assistance by Michelle Jamrisko, and Anuradha Raghu
Before it's here, it's on the Bloomberg Terminal.
LEARN MORE