Five Things You Need to Know to Start Your Day
Get caught up on what's moving markets in Asia.
By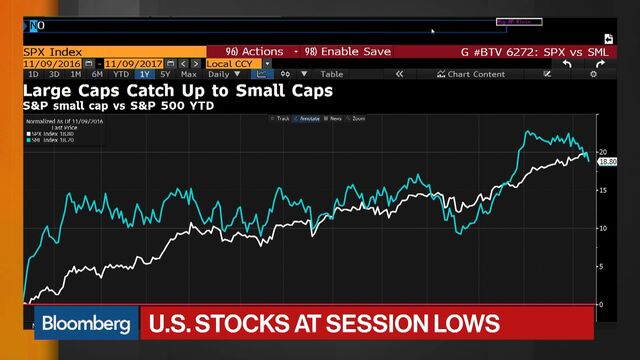 Want to receive this post in your inbox every morning? Sign up here.
Trump leaves China with symbolic wins, severe selloff in U.S. stocks averted, and Saudi Arabia's crackdown intensifies. Here are some of the things people in markets are talking about.
Stand on Ceremony
U.S. President Donald Trump didn't appear to convince Chinese President Xi Jinping to up the pressure on North Korea during his visit to Beijing. On trade, he blasted previous U.S. leaders for the explosion in America's trade deficit with China, and does leave with more than $250 billion in business deals that – given their non-binding nature – may not ultimately amount to much. Trump now heads to Danang, Vietnam for the Asia-Pacific Economic Cooperation summit, at which he's slated to deliver a speech on America's vision for the region. But the real headline event in Vietnam will be his highly-anticipated informal meeting with Russian President Vladimir Putin on the sidelines of the summit. Russia has vowed it will retailiate against U.S. media next week after its state broadcaster RT was forced to register as a foreign agent.
Off the Lows
It was a severe selloff – until it wasn't. The S&P 500 Index was down more than 1 percent at its lows of the day – which would have been a more than two-sigma event in 2017 terms – before paring losses to close down 0.4 percent. A Republican tax plan in seeming disarray, with a Senate proposal that would delay reductions in the corporate rate until 2019, was cited as the proximate cause for the retreat in risk assets. Separately, the House Ways and Means Committee approved a list of tweaks that reduce the cost of the legislation – including an increase to the rate companies would pay on repatriated profits – which may set the stage for a vote by all representatives next week. High-yield debt also continued to come under pressure, with volumes in the iShares iBoxx High Yield Corporate Bond exchange-traded fund skyrocketing. 
The Ritz Guest List
A second hotel in Riyadh – right across the street from the Ritz-Carlton – has been mysteriously booked, fueling suspicion that the ranks of detained high-level princes, businessmen, and other current and former Saudi government officials is swelling. Crude oil advanced on the intensifying crackdown. While the purge is largely viewed as a means of further concentrating authority in Crown Prince Mohammed bin Salman, it's shaping up to be far more than just a power grab.  The nation's wealthy are looking to move assets out of the region to avoid getting caught up in the probe, as authorities estimate at  least $100 billion in ill-gotten gains. The U.A.E.'s central bank has reportedly asked local financial institutions to provide information on the accounts of Saudi citizens, some of whom have already been arrested. Beyond the internal crackdown, external strife is also on the rise: Saudi Arabia has advised its nationals to leave Lebanon, fostering fears of escalating tensions between the kingdom and Iran.
Futures Down
Nikkei 225 and S&P/ASX 200 futures are both trading well to the downside ahead of the open, taking their cues from the risk-off trade in U.S. stocks. A stunning reversal in Japanese equities on Thursday saw the Topix's biggest one-day swing in a year, with major bourses paring losses with late-day recoveries that foreshadowed what was to come stateside. The benchmark gauge has gone nowhere over the past decade.
Coming Up...
It's a fairly light day for economic data in the region. Hong Kong's third-quarter growth is forecast to moderate to 0.6 percent quarter-on-quarter. Singapore retail sales are forecast to decline on a monthly basis for the second straight reading in September. Same goes for Japan's tertiary industry index. We'll also get updated economic forecasts from the Reserve Bank of Australia, which held rates unchanged at record lows in its meeting earlier this week. Indian industrial production growth, due out at 9 p.m. Tokyo time, is projected to moderate to 3.8 percent in September.
What we've been reading
This is what caught our eye over the last 24 hours.
Before it's here, it's on the Bloomberg Terminal.
LEARN MORE