Facebook And Twitter Are the Newest Battlegrounds in Brazil's Election
By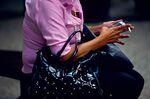 Less than a year before Brazil's presidential elections, potential candidates are ramping up social media presence as they brace for a tight race with shrinking financial resources.
Facebook, Twitter, Instagram and YouTube are poised to play outsized roles in the first presidential race since new rules put an end to corporate campaign donations, forcing possible candidates to seek cheaper and more effective ways of reaching voters. Bloomberg will track growth in their follower base until the October 2018 vote.

Click here for real-time updates on the follower base of the potential candidates.
Here's a list of possible contenders, with links to related stories or profiles:
Social media penetration in Brazil is well above the global average, with users spending nearly 3-3/4 hours per day on the platforms, the second-most of all countries tracked by the Digital in 2017 survey. In comparison, U.S. users spend about two hours a day on social media. It also allows candidates to bypass television behemoth Globo that for decades has held enormous sway in Brazil's election outcomes.
Before it's here, it's on the Bloomberg Terminal.
LEARN MORE