Brexit Will Come to Britain One Hour Early
By
Davis backs amendment to EU Withdrawal Bill to fix leave day

U.K. to exit EU at 11 p.m. on March 29, 2019, under draft act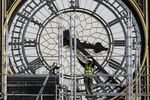 Follow @Brexit for all the latest news, and sign up to our daily Brexit Bulletin newsletter.
The U.K. is moving to set in law the date that it will quit the European Union, in a move that will delight Euroskeptics in Theresa May's ruling Conservative party.
Brexit Secretary David Davis will propose an amendment to the EU Withdrawal Bill when it's debated in Parliament next week, making "crystal clear" that the departure will take place at 11 p.m. GMT, on March 29, 2019. This will be midnight in Brussels, but an hour earlier in London.
The plan will be welcomed by Conservatives who are nervous that negotiations with the EU could drag on, especially following a proposal for a temporary extension to the U.K.'s EU membership so that talks can be completed.
It also signals a potential willingness on behalf of May's government -- which has no automatic majority in Parliament -- to compromise in the face of lawmakers' demands.
"We've listened to members of the public and Parliament and have made this change to remove any confusion or concern about what 'exit day' means," Davis said in an emailed statement Thursday. "This important step demonstrates our pragmatic approach to this vital piece of legislation -- where MPs can improve the Bill, whatever their party, we will work with them."
Davis is facing a more difficult choice over whether to give in to rebel demands for a binding vote on the final Brexit deal. He signaled the government could agree to further concessions during the passage of the draft law, saying the government "look forward to further debate" when the Bill is scrutinized in the House of Commons next week.
Before it's here, it's on the Bloomberg Terminal.
LEARN MORE