Bond Investors Suffer Hangover From a High-Grade Debt Binge
By
From M&A to GOP tax proposal, companies in a rush to borrow

'Supply shock' as market pushes yield spread to one-month high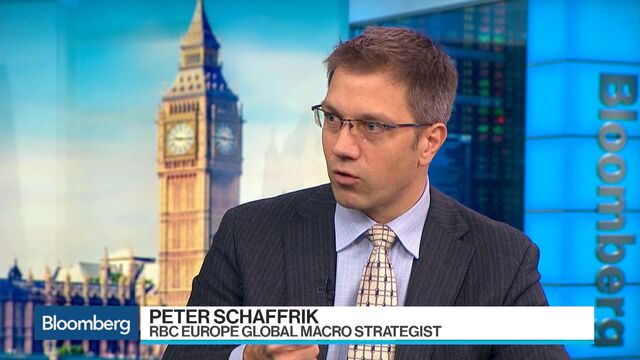 Investment-grade companies are making a late-year rush to the debt markets, and investors are choking on the supply. 
With more than $24 billion of bonds already priced this week, following record issuance in October, the market has pushed spreads -- the yield over Treasuries investors demand to hold the debt -- to a one-month high. Broadcom Ltd. brought the biggest November surprise with its audacious $105 billion bid for Qualcomm Inc., as much as 80 percent of which could be funded with debt.
Much of the borrowing has been done by blue-chip companies like Apple Inc., Oracle Corp. and Johnson & Johnson that have little immediate need for the cash. Those are also among the U.S. companies with the most profits profit stashed overseas, which could be used to reward shareholders. But with Congress looking at curtailing tax deductions for interest paid on debt, which have funded dividends and stock buybacks, companies are pushing to get deals done now.
"If we continue to get these bigger deals that are tax-related, that does put some pressure on IG. That's something we're worried about," said Travis King, head of investment-grade credit at Voya Investment Management in Atlanta. "People are generally expecting supply to slow down at this point in the year."
King said the near-term tax-driven boost in supply and mergers and acquisitions talks are weighing on both new issues and the secondary market.
Representatives of Apple, Oracle and Johnson & Johnson didn't return messages seeking comment.

Goldman Sachs estimates that U.S. companies have stockpiled as much as $3.1 trillion offshore, led by Apple's $250 billion-plus. Under current law, the U.S. taxes multinationals on their global earnings but allows them to defer taxes on foreign earnings until they bring them back to the U.S., or "repatriate" them. But doing so isn't mandatory. The House Republican proposal would impose a one-time, 12 percent tax on repatriated earnings held in cash, compared with the current 35 percent.
Investment-grade companies have been on an issuing spree to fund deals now before tax laws potentially change. Tech and pharmaceutical companies in particular have been selling debt to take advantage of cheap financing, even though repatriation could bring back billions in overseas profits. 
"Not only was that a supply shock, but it also brought into question what are Apple and Oracle telling us about their view on the likelihood of tax changes," said Dave Brown, head of global investment-grade credit at Neuberger Berman, which oversees $284 billion. "The repatriation narrative started coming out of the market."
Companies like AT&T Inc. and Verizon Communications Inc. are swapping and buying back higher-coupon bonds while the interest is still deductible, a key tax benefit that the House Republicans' plan would diminish. Wal-Mart Stores Inc. and Comcast Corp. completed similar transactions, contributing to the unusually busy October that spilled over to November.

Companies injected $123 billion of supply into the market last month. That pushed dealer inventories to the highest level since July 2014, Bank of America Corp. strategists led by Hans Mikkelsen said in a report Wednesday, leaving Wall Street "in no position" to help absorb early November supply without wider spreads, they said.
"It's a strange set of circumstances," said Tom Murphy, a Minneapolis-based money manager at Columbia Threadneedle. While Apple and Oracle's deals weren't massive in size, the concessions were, "and every message we got from traders was we need to rethink where a 30-year new issue should come. It really has a follow-through for other high-quality sectors and becomes a self-fulfilling prophecy."
The pain has spread to health care, too, where dismal earnings reports from Teva Pharmaceutical Industries Ltd. and Celgene Corp. have weighed down the broader sector.
Still, the supply glut and widening of spreads are likely temporary, said Krishna Memani, chief investment officer at Oppenheimerfunds Inc.
"I don't have a doubt in my mind that before year-end we'll be at tighter levels," he said. "The drivers of demand haven't changed that much -- the rebalancing of equities to bonds is still happening, overseas investors are still with us. Nothing fundamentally or technically has changed."
Before it's here, it's on the Bloomberg Terminal.
LEARN MORE