Balance of Power: Tough-Talker Trump Settles for China's Warm Words
By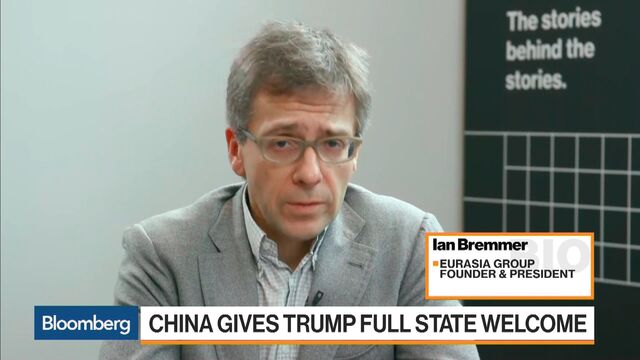 For all of Donald Trump's tough China campaign talk, the U.S. president is leaving his first visit to Beijing with little to show for it but handshakes and warm words with Xi Jinping.
Trump's big get — 15 deals totaling as much as a quarter-trillion dollars — provided tweetable headlines and dents in the U.S. trade deficit. But many were non-binding and may never happen, and didn't offer the policy changes American executives want to lower investment barriers.
Trump — who backed off a vow to label China a currency manipulator — touted his "very good chemistry" with Xi after an opera trip and dinner in the Forbidden City. "I don't blame China," he said, faulting "past administrations" for letting China get ahead. A top Trump administration official said the rapport would help solve bigger problems in the future.
Xi, meanwhile, gave little ground, saying China would open its market on its own "timetable and roadmap." There was no North Korea breakthrough either. The Chinese president pledged only continued UN sanctions. 
Ex-U.S. Trade Representative Mike Froman suggested a confrontation might be looming over trade. "There's some view that they're waiting for this trip to be over before they take action," he said.

Sign up to receive the Balance of Power newsletter in your inbox, and follow Bloomberg Politics on Twitter and Facebook for more.
Global Headlines
Big day for tax plan | It's crunch time for Republican tax-writers. The House Ways and Means Committee plans a vote on its tax plan, even as its leaders rush to reduce the measure's almost $1.6 trillion cost. Senators, meanwhile, plan to reveal their own proposal, underscoring the challenge of enacting legislation before Christmas.
Shutdown brewing | Republicans' focus on taxes is masking a more pressing December deadline — avoiding a government shutdown. Adding to partisan disputes over funding and priorities, battles are likely over immigration, the border wall and Obamacare. It's a crucial test for Republicans seeking to prove they can govern, particularly after this week's electoral setbacks in the states of Virginia and New Jersey. 
May's tough week | Prime Minister Theresa May lost a second cabinet minister on the eve of the resumption of Brexit talks, leaving her leadership looking less tenable by the day. The international development secretary resigned over revelations about unauthorized meetings with Israeli officials just days after the defense secretary stepped down amid a sexual-harassment scandal. Robert Hutton and Kitty Donaldson look at the political lessons from the chaos.
Islamic State in retreat | Forces loyal to President Bashar al-Assad yesterday drove Islamic State militants from Abu Kamal, their last major Syrian stronghold. It's now lost control of all urban areas in Syria and Iraq, signaling the final defeat of the jihadist group in its current form may come soon, but as Donna Abu Nasr writes there are still plenty of challenges ahead.
Political rain delay | Malaysian Prime Minister Najib Razak may have to let Mother Nature run her course before calling an election to capitalize on a generous budget and fractured opposition. Trade Minister Mustapa Mohamed told Rosalind Mathieson that monsoons expected to continue into early next year could suppress turnout. "The risk to the downside is so large," he said.
And finally... A tweet from Canada's environment ministry praising Syria for joining the Paris Climate Agreement drew swift condemnation from Twitter followers and colleagues alike. "Never mind that unpleasantness about gassing kids," one Conservative lawmaker replied. "Certainly not something I think Canadians want to see, government officials congratulating countries led by dictators," said another. Environment Minister Catherine McKenna apologized and the post was deleted. Once Syria signs the accord, the U.S. will be the sole outlier.

— With assistance by Kathleen Hunter, Chris Fournier, and Karl Maier
Before it's here, it's on the Bloomberg Terminal.
LEARN MORE