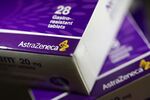 It's a tale of two British pharmaceutical giants. 
Investors punished GlaxoSmithKline PLC in October when it waffled on its dividend during its third-quarter earnings call, sending its shares down nearly 6 percent. AstraZeneca PLC CEO Pascal Soriot took the hint; on his company's earnings call on Thursday, he promised investors "full" commitment to Astra's progressive dividend policy. That was enough to avoid Glaxo's harsh treatment. 
But such commitment has a cost. 

The threat to Glaxo's dividend comes largely from ambitious acquisition plans and its need to bolster its pipeline.
Astra is in a tough spot even without acquisition plans. Its earnings and cash flow are under pressure. Several of its best-selling older medicines face generic competition or soon will. Its diabetes and respiratory franchises are being squeezed on price. And the company already has a significant debt load it accrued to fund past M&A. 

Astra's response to this cash crunch as been to aggressively license or sell off assets. While it has portrayed these moves as efforts to streamline its portfolio, they are driven at least partly by necessity and have come to provide a significant chunk of the company's revenue. 

Astra's multi-billion-dollar deal in July to split the proceeds of cancer drug Lynparza and another medicine with Merck & Co Inc. was likely driven partly by its dividend commitment. The deal came just as the medicine was beginning to look more promising after a broader-than-expected FDA approval to treat ovarian cancer. Lynparza sales grew more than 30 percent in the quarter from the same period last year. Combining the drug with other medicines adds even more upside. And now Merck owns half of it, hampering Astra's longer-term growth. 
Astra got a good return on the asset. But only because it couldn't afford to chase its full potential. 

The company has been aggressively cutting costs, and divesting assets helps. But it also has a lot of spending ahead as it looks to take advantage of a run of good trial results for its cancer medicines.
Lung-cancer drug Tagrisso will likely soon be available for a broader group of patients. Astra's immune-boosting cancer drug Imfinzi is likely to be approved for a different subset of lung-cancer patients. Blood-cancer drug Calquence was approved on October 31st, and it faces a battle with AbbVie Inc. and Johnson & Johnson's well-established rival drug. 
R&D and launch-cost pressures related to those medicines, along with the continuing decline of older drugs, mean Astra's growth woes aren't over.
The company has already taken a small mortgage in service of its dividend. It may need another. 
Before it's here, it's on the Bloomberg Terminal.
LEARN MORE