A `Circus' for New Zealand's Central Bank Works for Fed, BOJ
By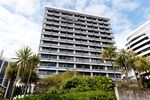 Faced with an overhaul of its policy-making structure, New Zealand's central bank pushed back against one option on Thursday, with its acting chief arguing against a proposed reform that would put it in line with practices at the Federal Reserve, Bank of Japan and Bank of England.
The principle of having non-career central bankers on policy-setting boards has been embraced for years at those central banks, with the idea -- common also in business -- that having people of diverse backgrounds and perspectives will enhance discussions and improve decision-making.
RBNZ Acting Governor Grant Spencer made clear he sees having external experts as a vulnerability, not a strength. "You see policy committees around the world, or in other central banks, where everyone's out with different views in public and it turns into a bit of a circus," he said. "We think the current committee, internal committee, works pretty well."
Click here to read more about Spencer's views
A diversity of views is such an important principle in the U.S. that legislation instructs the president's Fed board nominations to reflect "a fair representation of the financial, agricultural, industrial, and commercial interests, and geographical divisions of the country." Like the Fed, the BOJ typically has board members whose careers developed outside central banking -- such as two current ones who hail from the manufacturing and banking industries.
Britain took diversity one step further in naming a Canadian as ringleader for the BOE.
While Spencer acknowledged the benefits of diversity, he said there could be issues in finding people in a small nation like New Zealand with the "appropriate expertise that's not conflicted, that's politically independent."
Before it's here, it's on the Bloomberg Terminal.
LEARN MORE