Yet Another Bank Stinker Is Holding Back Europe Stock Bulls
By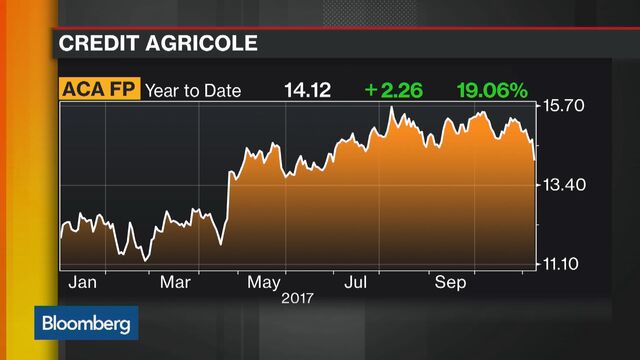 When European equities aren't faring as well as expected, blame the usual suspects -- banks.
Lenders, which as recently as August were outpacing the broader European stock market by the most in 19 months, are turning out to be the biggest laggards of the fourth quarter. Losses on Wednesday spurred by Credit Agricole SA's less-than-stellar quarterly revenue worsened the heavyweight sector's drag on the Stoxx Europe 600 Index, which has underperformed global peers this year.
Even a seven-day selloff was barely enough to lure dip buyers on Tuesday, in a sign that banks are once again losing their luster. A rally in lenders earlier in the year bolstered equity gains in the region, but risks are resurfacing even as U.S. rivals fly high amid higher rates and speculation about corporate tax cuts. Catalonia's crisis weighed on Spanish lenders, soured loans hang over those in Italy, and weak quarterly results are hurting France's top investment banks.

Unloved for most of the past decade, banks still rank among Europe's cheapest stocks. The Stoxx 600 banks index trades at less than 12 times its members' projected earnings, a discount of 23 percent to the broader market. The gauge of lenders closed at a seven-week low on Wednesday, led by declines in Italian firms and Credit Agricole's worst drop in five months.
Before it's here, it's on the Bloomberg Terminal.
LEARN MORE