politics
Yellen Hasn't Decided Whether to Remain at Fed, Mnuchin Says
By and
Treasury chief had breakfast with central bank chief Wednesday

Yellen has option to stay at Fed as Board of Governors member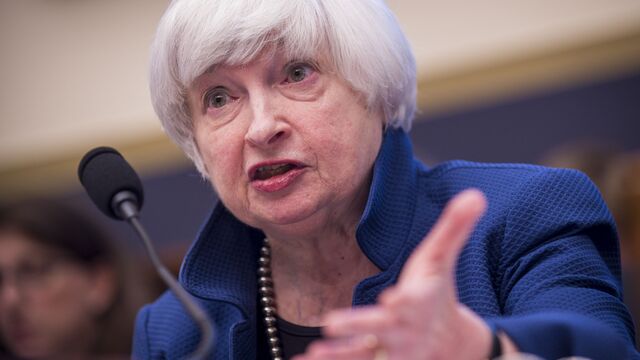 Federal Reserve Chair Janet Yellen hasn't yet decided whether she'll stay at the central bank in a diminished role when her term as chair ends in February, Treasury Secretary Steven Mnuchin said.
"I don't think she's made any decision in regards to that one way or another yet," he said in an interview on Bloomberg Television, adding that he had breakfast with Yellen earlier Wednesday as part of their regular get-togethers.
Mnuchin spoke days after President Donald Trump said he planned to nominate Fed Governor Jerome Powell to run the U.S. central bank, a move that's subject to Senate confirmation. Though she'd no longer be chair, she can continue serving a separate term as a governor that runs until 2024.
Trump still has a chance to appoint three more Fed governors to the seven-member board, including one who will serve as vice chair. The search may expand to four if Yellen leaves the board.
"We're turning our attention to the other positions and we look forward to filling them," Mnuchin said. "It'll be as well a very robust process of considering people and interviewing people for them. They are very important jobs to fill."
Asked if the administration is seeking a Ph.D. economist for the vice chair opening, Mnuchin said, "I wouldn't describe there's a specific criteria. There's a lot of things that we look at, but the vice chair is a very important position and that's something we're already considering people for."
Adding to the turnover, William Dudley this week said he would step down in mid-2018 as president of the New York Fed. That position is the key liaison to Wall Street and typically is the most powerful of the 12 regional Fed chiefs.
— With assistance by Randy Woods
Before it's here, it's on the Bloomberg Terminal.
LEARN MORE