What Wall Street Is Saying About Snap's Disappointing Results
By and
A number of analysts lowered their estimates after this report

Analysts say app redesign likely to be risky, disruptive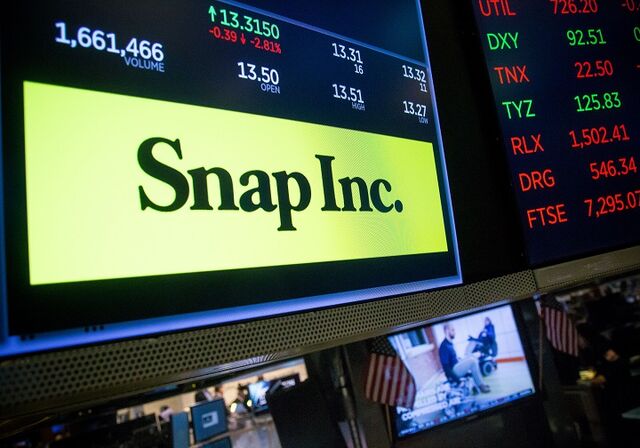 Snap Inc.'s day might have been a lot worse if not for Tencent Holdings Ltd.
Shares were on track to trade to a three-month low before the company disclosed that China's Tencent had taken a 145.8 million share non-voting stake in Snap. The stock briefly erased much of its pre-market plunge, despite disappointing earnings and plans to redesign its app that spurred several analysts to downgrade their ratings.
The earnings disappointment has become a familiar pattern since Snap's March IPO. It's the third time that the social media operator has reported earnings, and the third time shares have tanked afterwards, this time not only on worse-than-anticipated revenue and user growth, but on a massive overhaul to its app and change to its revenue model.
The firm went to great lengths to differentiate itself from Twitter Inc. during its initial public offering process. But Snap's 30 percent fall since its IPO through Tuesday brought its market cap within a few million of Twitter's. Shares resumed their pre-market decline, falling 8.5 percent at 7:25 a.m. in New York.
Given the results and changes set to happen in the coming months, Wall Street had plenty to say, here's a wrap.
UBS, Eric J Sheridan
Sheridan downgraded the stock to sell from the neutral he's held since the IPO and slashed the price target to $7 from $12.
"In the first two quarters as a public company, we framed Snap's disappointing results as 'growing pains' but felt the long-term debates around user growth and ad business scaling were left unsolved. While many of those questions remain unanswered after a third earnings report, it is now very likely that Snap will continue to struggle on multiple fronts in the coming 12 months - a redesigned app could bring opportunity but also platform disruption & trying to scale its ad business as user growth is tepid while competing against Alphabet, Facebook & Amazon is likely going to prove difficult. We no longer believe Snap warrants a set of valuation metrics much different than its peers, as the company's growth prospects (while not producing anywhere near industry leading profit metrics) decelerate in coming quarters."
RBC Capital Markets, Mark Mahaney
Mahaney also lowered his rating on Snap, to sector perform from outperform, and cut the price target to $15 from $20.
"We initiated with an outperform when the stock was at $24. We have had the wrong call. We do believe that Snap is a very interesting asset with great product innovation. However, we see 3 outstanding issues: 1) Visibility: The revenue shortfall against expectations and management commentary implies that management likely has much less visibility into the business than we thought. 2) Daily active user growth: We still haven't seen an inflection in daily active user growth despite substantial product innovation. Advertisers go where the eyes are and we need to see further user growth. 3) Uncertain engagement: This quarter we didn't see any detailed metrics highlighting that engagement was improving, with management noting simply that time spent, frequency of use, and Snap creation were all increasing. We believe these issues will take time to resolve and are thus moving our rating to Sector Perform."
JPMorgan, Doug Anmuth
Anmuth downgraded Snap to underweight from neutral and cut his price target to $10 from $14.
"Snap is redesigning its app, a clear sign of recognition that the product is too difficult for many to use and that the service has not resonated enough with users 35 and up. Snap daily active users increased 4.5 million in 3Q to 178 million, below our projection for 9 million net adds and the 7 million added in second quarter. Even with the launch of Snap Map in late June, user growth was modest in July and August before picking up more in September to end the quarter. Snap gave little detail around what the app changes could look like, or the timing, but noted that it is actively studying mobile content feeds, and also indicated that Snap Map could receive greater prominence. We have long thought that Snap's user interface is too complicated for many potential new users, and making bigger changes to the app could be the right approach long-term. But it also carries significant risk, as Snap's heavily engaged existing user base -- opening the app 25x per day and spending 40+ minutes per day on average (users <25) -- could be disrupted."
Pivotal Research, Brian Wieser
"Snap reported weak third quarter 2017 results versus expectations, with revenues well below forecasts and an absence of confidence that the attributed source of under-performance is net positive to the business. With some downward adjustments to our financial model post these results, our new price target is $8 per share on a year-end 2017 basis vs. $9 previously, which continues to lead us to rate the stock sell."
Credit Suisse, Stephen Ju
"We believe it is only a matter of time before the programmatic impression mix approaches ~100 percent and the revenue via the auction surpasses 50 percent, at which point the pricing headwind should become a tailwind as the company continues to add advertisers and build auction pressure. Hence we do not view our investment thesis as being impaired but rather moving at a slower pace than we had hoped. And in the meantime, we take a more conservative stance on our estimates as we decrease our daily active user growth expectations as well as North America average revenue per user (primarily) – our price target resets lower back to $17 vs prior $20 and we maintain our outperform rating."
Barclays, Ross Sandler
"We have been on the sidelines on Snap since the IPO, but as shares continue to move lower, our optimism is increasing. The company is tightening up the message, but the trajectory of user and ad growth isn't good enough to support the 12 times the fiscal year 2018 revenue multiple. Most of the pain around the transition from reserved to auction is behind Snap, so trends should look more stable going forward. We have reduced our revenue and daily active user estimates, our target is now $11."
Cowen and Co., John Blackledge
"We lowered fourth quarter 2017 and total 2017-2022 estimates. Given the estimate changes, our price target goes to $12 from $14 prior. We maintain our market perform rating."
Before it's here, it's on the Bloomberg Terminal.
LEARN MORE