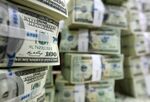 Wall Street, which normally roots for investors to pour their cash into stocks and bonds, is growing increasingly concerned that there is such a thing as too little of it in reserve.
Last week, Bank of America Merrill Lynch said in a research note that a survey of the bank's private wealth clients found that cash as percentage of their total investment accounts had dropped to 10.2 percent. That's the lowest it has been since Bank of America began surveying its clients on their holdings in 2005. Cash hit a previous low of 11 percent in April 2007. It was as high as 21 percent coming out of the financial crisis, and it has averaged just under 13 percent for the past 12 years.

INTL FCStone, the financial services company, said recently that cash in mutual fund portfolios had dropped to 3.3 percent, also an all-time low. And Citigroup's chief U.S. equity strategist, Tobias Levkovich, mused in a note to clients recently that steadily rising stock prices have compelled "performance conscious" mutual fund to go close to all-in on the stock market.

Low cash positions worry Wall Street. First, it suggests that investors, pushed by recent earnings gains and an assumption that President Donald Trump and Republicans will get some type of tax cut passed, may be too exuberant in their affection for stocks. And there are other signs of that. The price-to-earnings ratio of the S&P 500 Index based on this year's expected earnings is nearly 19.5. That's well shy of the highest it has been, but it's still greater than average. The flip side of the cash position is how much investors have in stocks. According to Federal Reserve data, the value of stock market holdings is also at a record for individual investors, but that could also be because stocks have risen faster recently than other assets. Cash held by Americans is up as well, even if it's a lower portion of their total wealth.
Levkovich throws some cold water on the argument that we are back in irrational exuberance territory. A survey by the bank found that more than 60 percent of investors think the market is more likely to drop 20 percent in the next year rather than rise 20 percent. The survey also showed that while few investors expect a recession, similarly few expect the economy to grow more than 3 percent in the next year, either. And growth of index funds, which have to stay 100 percent invested in the stock market, could be driving at least some of the all-time low cash position.
But that may not matter. Even if investors aren't nearly as gaga about stocks or the economy as they were in 2000 or 2008, the low cash position could be a problem as it has at other times during this bull run. Cash positions were low in mid-2011 and mid-2015, points at which the market has stumbled. And funds trying to beat passive investors may be quick to exit stocks when they start to fall, sensing an advantage over index funds, which can't sell. When excess cash runs out, bull markets tend to stop charging as well.
Before it's here, it's on the Bloomberg Terminal.
LEARN MORE