U.K.'s Johnson to Visit Washington for Iran Nuclear Deal Talks
By
Foreign secretary to meet Paul Ryan, senators in two-day trip

Johnson: 'The Iran nuclear deal makes the world safer'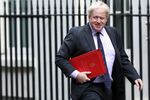 U.K. Foreign Secretary Boris Johnson will fly to Washington in an attempt to persuade the U.S. not to abandon the Iran nuclear deal, as he battles to save his own job in London.
Johnson will meet senior Republicans and Democrats to discuss the importance of the nuclear security agreement, amid political controversy over his handling of policy toward Iran at home in Britain.
"The Iran nuclear deal makes the world safer," Johnson said in comments released by the Foreign Office in London on Wednesday. "That's why it is vital that the international community sticks to the deal. It is working and has, so far, resulted in Iran giving up 95 percent of its uranium stockpile."
It is Johnson's first trip to Washington since President Donald Trump's announcement that he won't certify Iran's compliance with the nuclear deal. Johnson will hold two days of talks on Capitol Hill, and is scheduled to meet with House Speaker Paul Ryan; House and Senate Majority Leaders Kevin McCarthy and Mitch McConnell; the chairmen and ranking members of the Senate Foreign Relations and House Foreign Affairs Committees; Senators Bob Corker and Ben Cardin; and, Representatives Ed Royce and Eliot Engel, the U.K. government said in an email.
Johnson said supporting the deal didn't not mean condoning Iranian behavior such as the "unjustified detention of British national" or its ballistic missile program. On Tuesday, Johnson faced calls to resign in London over his comments about a British-Iranian woman held in Iran.
Before it's here, it's on the Bloomberg Terminal.
LEARN MORE