Politics
Trump Hunts for Trade Deals in Asia
No trophies so far, as North Korea and other issues dominate the first stage of the president's journey.
By , , and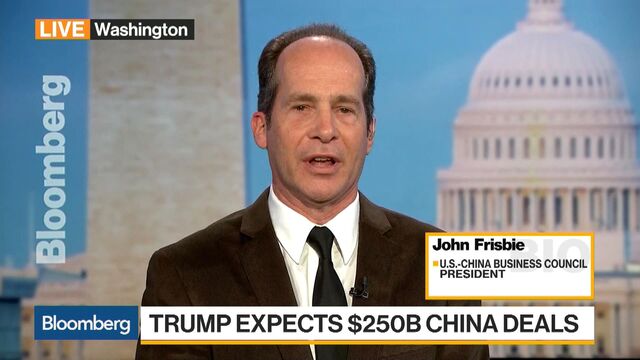 Get the latest on our coverage of Trump in Asia and the world leaders' meeting in Vietnam in your inbox daily. Sign up here.
Donald Trump's withdrawal from the 12-nation Trans-Pacific Partnership has put the U.S. in a difficult position when it comes to Asian commerce. That was apparent in early November when the president embarked on a tour of East Asia that took him to Japan, South Korea, and China, with further stops planned in Vietnam and the Philippines. Trump was greeted with pomp, circumstance, and promises to buy more American goods, but the White House didn't report any progress on the market-opening measures the U.S. has long sought.
In Japan, Prime Minister Shinzo Abe ducked any talk of major trade concessions, even though Trump kept bringing the topic up. The president had to settle for a white baseball cap emblazoned in gold with the message "Donald & Shinzo, Make Alliance Even Greater." In South Korea, which has a free-trade agreement with the U.S. that Trump has repeatedly criticized, trade took a back seat to concerns about the threat from North Korea. In China, President Xi Jinping flattered Trump with "state visit-plus" treatment, including trips to the opera and the Forbidden City, as well as eye-catching promises. The White House was expected to announce more than $250 billion in business deals.
Trump campaigned for the White House on his ability to go one-on-one with foreign leaders to strike better trade agreements. He prefers bilateral agreements to multilateral ones like the TPP, which he called a "disaster" and a "rape of our country." But now that it's time to deal, he's finding that trading partners aren't so pliable after all.
One problem for Trump is that the leaders of Japan, South Korea, and other nations can't be seen by their voters as caving in to American demands, says William Reinsch, a former president of the National Foreign Trade Council and a distinguished fellow at the Stimson Center, a Washington think tank. Reinsch once wrote an opinion piece called "Bilateral, Shmilateral."
Multilateral talks provide more chances for countries to come away happy, because the concessions they want don't all have to come from a single party. Country A concedes something to B, B concedes to C, and C concedes to A. In the TPP, for example, Japan agreed to take more dairy imports, helping New Zealand, while it received concessions from other countries on its manufactured exports, Reinsch says. Another advantage: In a big group the U.S. can win points without anyone else obviously giving in. Countries making concessions "can muddy the waters a little bit rhetorically," he says.

When presidents do announce trade deals on trips, it's generally because lower-level officials on both sides have put in a lot of work in the preceding months. There's no evidence that's happened under Trump. "There seems to be more of a focus on making a political point about trade deals vs. improving them," says Joshua Meltzer, a senior fellow at the Brookings Institution.
North Korea, not trade, seems to be occupying the lion's share of Trump's attention in Asia. While he isn't the first American president to end up putting diplomatic and security imperatives above U.S. commercial interests, he's been more explicit about it than most. In April he told the Wall Street Journal he'd offered Xi better trade terms in exchange for help on North Korea.
To be fair, trade liberalization is a tough nut to crack. Especially trade with China. Xi, having seen the political turmoil generated by fake news on social media in the U.S., is determined to keep America's digital giants out of China. Xi will also continue to protect the state-owned enterprises and technology sectors that China regards as key to its future. "It really isn't clear to me what could be done" about those by even an ideal American negotiating team, says Gary Clyde Hufbauer, a senior fellow at the Peterson Institute for International Economics.
The absence of the U.S. from the TPP just makes matters worse. China is rushing to fill the gap left by the U.S. Its 16-nation Regional Comprehensive Economic Partnership includes Japan, India, and South Korea but excludes the U.S. Michael Sekora, who worked on U.S. technological security in the Reagan White House and now runs Quadrigy, a consulting company, said he sensed a leadership vacuum in the Pacific recently while visiting government officials in Australia, Colombia, and Malaysia. "They said, 'We don't want to get in bed with China, but we don't have any choice,' " Sekora says.
China is playing a long game. At the Communist Party congress in October, Xi outlined plans to make the country "a global leader in terms of comprehensive national strength and international influence" by 2050. Trump seems to be more focused on the daily news cycle. Says Yukon Huang, a senior fellow at the Carnegie Endowment for International Peace in Washington: "This contrast between a very short-term focus on issues against a China which tends to think very long-term is an interesting challenge in a global environment where we are talking about relative decline."
BOTTOM LINE -
Trump boasts of his dealmaking prowess, but bilateral trade talks with Asian partners aren't likely to yield big wins for the U.S.
Before it's here, it's on the Bloomberg Terminal.
LEARN MORE