Troubled Museum Can't Be Halted From Selling Cherished Rockwells
By and
Artist's children sued to halt the Nov. 13 sale of paintings

Museum seeks to sell works valued at as much as $68 million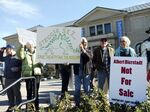 Sotheby's can go forward with next week's auction of art from the Berkshire Museum, including a Norman Rockwell painting worth as much as $30 million, over protest by the late artist's sons that their father donated them to remain on permanent display.
A Massachusetts state judge ruled Tuesday that the two paintings Rockwell gave to the Pittsfield-based museum, as well as works by Albert Bierstadt, Alexander Calder and Frederic Church, can go on the auction block Nov. 13. The art is valued at as much as $68 million, Sotheby's has estimated.
Rockwell's sons sued to halt the sale, arguing the paintings, known as "Blacksmith Boy--Heel and Toe" from 1940 and "Shuffleton's Barbershop" from 1950, could be purchased by a private collector, never to be seen again.
Massachusetts Attorney General Maura Healey and former and current museum members also joined the effort to stop the sale. The state argued that a sale not only violated general museum ethics but that the trustees chose an "exorbitant" revitalization plan and upgrades that could cost $60 million.
Judge John Agostini rejected their arguments, concluding that neither Rockwell's sons, the state of Massachusetts, nor former and current museum members had standing to sue to halt the sale. While the museum's decision generated debate about the rights and responsibilities of museums to sell off works -- called "deacession" -- Agostini said the sale would help boost the museum's financial outlook, which he said is "otherwise bleak."
Berkshire Artist
The judge also rejected the plaintiffs' argument and testimony from a retired museum curator, who said the artist donated the paintings because "they were his favorite oil paintings and he wanted them to stay on display in the Berkshires."
"This may very well mean that timeless works by an iconic, local artist will be lost to the public in less than a week's time," Agostini said. "No doubt many will be disappointed in this outcome, and they may take little comfort knowing that, in their loss, the rights of a charitable board to make thoughtful decisions to steer its charity through troubled times have been vindicated."
Sotheby's said in a statement it is "very pleased that the court reaffirmed that the board of trustees acted in good faith and fulfilled its fiduciary duties."
"We are looking forward to successful auctions beginning next week that will ensure a bright future for the Berkshire Museum in support of the community of Pittsfield and Western Massachusetts."
 
Elizabeth McGraw, the president of the Berkshire Museum, said she and the board were grateful to Agostini.
"We believe we acted consistent with our responsibility to this community and our collections, to keep this museum open and strengthen it for generations to come," she said.  
Jillian Fennimore, a spokeswoman for Healey, and Michael Keating, a lawyer for the Rockwell family, didn't immediately return voicemail messages left after business hours seeking comment about the ruling or if they would appeal it.
The museum dates back to a collection donated by Zenas Crane, whose family founded the Crane & Co. paper manufacturing company used to make U.S. currency, according to the museum's website. The family has been in the paper business since 1770, when a paper mill it operated near Boston made the cotton paper used to make Colonial currency.
The case is Thomas Rockwell v. Trustees of the Berkshire Museum, CIV No. 17-0253, Commonwealth of Massachusetts Superior Court (Berkshires).
Before it's here, it's on the Bloomberg Terminal.
LEARN MORE