Finance
Inside the Dangerous World of Tiny IPOs
By and
So-called mini-IPOs can raise money from mom-and-pop investors

The companies have lost an average 34 percent since listing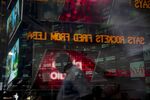 One executive was convicted of filing false tax returns, another for obstructing justice and a third accused of selling unregistered stock.
But three tiny companies with ties to the executives have now gone public in the U.S. in what may just be the zaniest little market on Wall Street: mini-IPOs.
These companies -- just seven so far -- aren't exactly blue chips. One made its debut on the New York Stock Exchange with a value of just $43 million -- less than 3 percent of the market cap of a typical NYSE-listed company—mostly from individual investors.
And some of the securities firms bringing these companies to market aren't exactly blue chip, either. A couple have checkered records themselves. Authorities' advice: buyer, beware.
"These offerings are extremely difficult to police," says William Galvin, the top securities regulator for Massachusetts.
None of the companies have been accused of wrongdoing. But these super-small initial offerings are seriously high-risk investments. All of the companies have lost value since going public, by an average drop of 40 percent. 
Mini-IPOs grew out of the Jumpstart Our Business Startups Act, a 2012 law that was supposed to eliminate red tape, help small companies go public and, ultimately, spur the economy.
Yet there's little evidence the JOBS Act has actually encouraged many IPOs or created many jobs. Their number has declined over the last two decades with the drop becoming more pronounced in recent years because companies can raise plenty of money from private equity and venture capital firms, according to Robert Bartlett, a law professor at the University of California at Berkeley. Regulatory hurdles play a smaller role, he said.
Income Limits
Under the law's Regulation A+, adopted by the Securities and Exchange Commission in 2015, tiny companies can sell shares with limited disclosure requirements and seek money from less well-off investors even if the securities don't trade on a major stock exchange. The Trump administration wants to increase the maximum size of these so-called crowdfunding offerings to $75 million from $50 million.
The SEC declined to comment. The regulator has said about 25 firms raised more than $235 million under Regulation A+ through 2016. Most haven't listed shares on an exchange. SEC rules bar company officials from participating in mini-IPOs if they have certain securities law violations within the last 10 years.
Adomani Inc., which makes technology to convert vehicle gas engines to electric, went public in June on Nasdaq. It hired the former superstar pro wrestler Bill Goldberg to tout the company's prospects to his hundreds of thousands of followers on Twitter and Instagram. Its stock has since declined about 49 percent while the company remains unprofitable.
Adomani and Goldberg didn't respond to requests for comment.
Regulatory Marks
Adomani was underwritten by Boustead Securities LLC and Network 1 Financial Securities Inc. Almost half of both firms' registered brokers have negative marks, such as regulatory fines or tax liens, on BrokerCheck, a database maintained by the Financial Industry Regulatory Authority. Just 13 percent of brokers across the industry have marks, according to Finra, a Wall Street funded regulator.
It would be wrong to conclude that the Adomani IPO was riskier than other share sales based on the backgrounds of Boustead employees "who had nothing to do" with the offering, Boustead Chief Executive Officer Keith Moore said in an emailed statement.
Network 1 didn't respond to requests for comment.
Fat Brands
One of Adomani's biggest shareholders was Dennis Di Ricco, who has a history of legal and regulatory run-ins, stretching back to the 1980s, including a federal conviction of obstruction of justice and aiding and abetting in the preparation of false tax returns. In 2008, California regulators ordered him to stop selling unregistered securities tied to an oil monitoring company that advertised a "patented technique," which didn't exist.
Di Ricco severed his relationship with Adomani earlier this year, selling millions of shares and options, according to filings. He didn't respond to requests for comment.
The latest mini-IPO came last month when Fat Brands Inc., owner of restaurant chains including Fatburger and Ponderosa Steakhouses, raised $24 million. CEO and founder Andy Wiederhorn, a former Wall Street dealmaker, served a 14-month sentence from 2004 through 2005 for filing a false tax return at a previous business he ran, Fat Brands said in an SEC filing in October.
"My settlement with the government and the related conviction trace back to a business restructuring that occurred in 1998, almost 20 years ago," Wiederhorn said in a statement. "The SEC and Nasdaq had no objection to my role as CEO and I believe investors take comfort in that."
The stock has dropped 27 percent since listing. Wiederhorn said the early trading isn't indicative "of how we will be measured."
Twitter Promotion
ShiftPixy, an Irvine, California-based firm that developed an app that connects businesses with part-time workers, promoted its $12 million offering on Twitter, Instagram and Facebook, as well as on Cheddar television, a live-streaming financial network. The stock is trading around $3.25 on Nasdaq, down by about 47 percent.
Co-founder Stephen Holmes was sentenced to 15 months in prison in 2003 after an earlier business he ran filed false tax returns, according to legal documents. And in 2013, Alabama ordered Scott Absher, now ShiftPixy's CEO, to stop selling securities in the state on civil claims that he pitched unregistered investments that failed to produce promised earnings. He denied the charges but didn't provide authorities a formal response, a filing shows.
"ShiftPixy and its senior management team have fully adopted and embraced the SEC's highest-level of disclosure requirements in all of its filings with the SEC, and related disclosure to investors and shareholders," Mark Absher, the company's in-house counsel, said in an emailed statement.
Cary Hartline, 22, bought stock in ShiftPixy on the secondary market after coming across it on an investor online board. When the stock dropped 8 percent for no apparent reason, the Dallas social media manager started researching the company and discovered past history of some of the executives, he said.
"I was completely blindsided," said Hartline, who works at Cuddli, a self-described dating app for geeks. "I can't believe these companies exist."
Before it's here, it's on the Bloomberg Terminal.
LEARN MORE