Tax Debate Has These Red-State Democrats Angling for Leverage
By
Manchin, Heitkamp, Donnelly signal possible tax-cut support

Midterm election prospects are hanging over their every move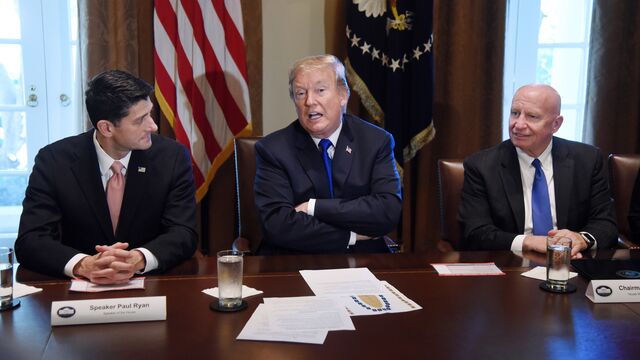 As Republicans barrel toward producing broad tax-cut legislation, three Senate Democrats are trying to leverage their way into the negotiations.
Senators Joe Manchin of West Virginia, Joe Donnelly of Indiana and Heidi Heitkamp of North Dakota were the only three Democrats in the chamber who declined in August to sign their party's list of conditions for supporting tax legislation. Soon after, the wooing -- and occasional needling -- began, including a private dinner with President Donald Trump and visits by the president to their home states.
Now that House Republicans have released their tax plan, with Senate Republicans set to follow suit as early as Thursday, the views of the three minority-party lawmakers are suddenly in demand.
At Manchin's behest, White House economic adviser Gary Cohn and Marc Short, the administration's chief lobbyist, headed to Capitol Hill on Tuesday afternoon to meet with a group of about a dozen Senate Democrats about the tax plan. In a sign of the administration's unease with a Republican-only strategy, Trump surprised the group by calling in via Cohn's mobile phone from Seoul.
"He thanked us for being there and hoped that we can find a path and we can all work together," Manchin said. Trump said he "would like to get a bipartisan deal done," but Manchin said he told the president that Republicans weren't acting like they're interested in Democratic input.
Close Hold
So far, the three Democrats aren't giving any specifics on what could win their votes. Their importance stems from the wafer-thin Republican Senate majority, which in July doomed the GOP's long-promised repeal of Obamacare. If more than two of the 52 Republicans in the Senate balk at the party's final tax proposals, their leadership will be hunting for Democrats who might be inclined to go along. 
Manchin, Donnelly and Heitkamp -- all three of them facing re-election next year in states Trump won by wide margins -- fit the bill. And by showing they are at least willing to negotiate, the three Democrats have a counterargument to Republican campaign opponents.
They, along with other congressional Democrats, may be emboldened by the Tuesday's election results, particularly in the swing state of Virginia where Democrats swept the top statewide offices and ousted veteran Republican officeholders in the state legislature. The results may portend a tough fight for Republicans to hold their congressional majorities in the 2018 elections.
Both Manchin and Heitkamp have been citing their discussions with Trump -- including a Sept. 12 dinner with the president -- as they stake out ground.
"The principle here is that we were told repeatedly by the White House, by the president himself, that he did not want the benefits to accrue to the wealthiest Americans," Heitkamp said in an interview. "We need to better understand why that's not a promise that's being fulfilled."
Political Threat
The attention hasn't always been pleasant. When Donnelly stood near Trump as he delivered a tax-cut speech at the Indiana State Fairgrounds on Sept. 27, the first-term senator found himself on the receiving end of an explicit political threat.
"If Senator Donnelly doesn't approve it -- because, you know, he's on the other side -- we will come here, we will campaign against him like you wouldn't believe," Trump said, drawing cheers from the crowd.
Publicly, Senate Majority Leader Mitch McConnell has been dismissive when asked whether he'll be looking for bipartisan support of a tax bill.
"My guess is once we've demonstrated we could get 50 votes and could pass it without them, that we might get a few Democrats," McConnell said Nov. 4 on MSNBC.
But as Republicans continue wrangling over details in the tax plan, those 50 votes aren't assured.
Republican Dissenters
Republicans including Bob Corker of Tennessee and John McCain of Arizona say they're concerned about the potential impact of deep tax cuts on the U.S. budget deficit. Susan Collins of Maine has objections about ending the estate tax and eliminating the state and local tax deduction.
And Rand Paul of Kentucky wants to lower the corporate tax rate to just 15 percent rather than the 20 percent in the current plan. He has joined Senators Tom Cotton of Arkansas and Ted Cruz of Texas in pressing for the repeal of Obamacare's individual mandate as part of the legislation.
Manchin, Heitkamp and Donnelly are in hotly competitive races on the 2018 ballot. They've taken steps to carefully line up with Trump on some issues since he won their states handily a year ago. All three voted for Trump's Supreme Court pick, Neil Gorsuch, and have worked to show their independence in other ways while mostly voting with other Democrats.
Trump's cratering approval ratings may give them room to maneuver within their own political considerations even if they decide to vote no on the tax plan.
Manchin immediately attacked the House GOP plan late last week, yet signaled he's open to negotiation. He said the House bill failed his test: that it help working-class people in his home state, help the state create jobs, and avoid adding significantly to the U.S. budget deficit.
Vulnerable Incumbent
Manchin is one of the most vulnerable Democratic incumbents on the ballot next fall, representing a state that Trump carried by 42 percentage points. Still, the moderate voting record he has assembled appeals to home-state voters. He was elected to the Senate in 2012 with 61 percent of the vote. But in 2018 there are a number of GOP rivals for the seat, including such top-tier candidates as U.S. Representative Evan Jenkins and West Virginia Attorney General Patrick Morrisey.
Heitkamp says she sees potential for bipartisan talks in the Senate, as opposed to the more-partisan push in the House. After the House released its bill, she cheered the fact that House Republicans scotched a proposal to reduce the amount of pretax funds Americans can put into 401(k) retirement plans, but said much more needs to be done to help the middle class and ensure the deficit doesn't jump.
Trump carried North Dakota by 36 points, and Heitkamp -- now the only Democrat elected to statewide office there -- won her seat in 2012 by fewer than 3,000 votes. So far, Republican state Senator Tom Campbell is running against her, and others, including U.S. Representative Kevin Cramer, could enter the race.
'Hired Help'
Donnelly said he's eager to stay in talks on the tax plan with the White House and other lawmakers. His top objectives: curbing outsourcing of jobs overseas and aiding the middle class.
"I'm the hired help for Indiana, and this was another opportunity to exchange ideas and discuss priorities important to Hoosiers with the White House," he said in a statement after Tuesday's meeting. "I'm going to continue engaging with the Administration and my Senate colleagues as we work on tax reform."
Donnelly, a former House lawmaker, won his 2012 Senate race with just 50 percent of the vote. Trump carried Indiana by 19 points, and it's the home state of Vice President Mike Pence. That's made Donnelly a top Republican target in 2018. Half a dozen Republicans are running in a primary to face off against Donnelly, including Representatives Luke Messer and Todd Rokita.
Donnelly may have the most political breathing room because Trump's popularity has dropped substantially in Indiana. Trump's approval rating was just 41 percent in an October poll by Ball State University's Bowen Center for Public Affairs.
Donnelly could have significant influence if he holds out his support and makes his decision close to a Senate vote, said Indiana political analyst Ed Feigenbaum, editor of the Indiana Legislative Insight newsletter that tracks Hoosier-state politics.
"As long he keeps pushing his version of the narrative, which is that he won't support anything but a middle-class tax cut, he's able to help drive the debate," Feigenbaum said.
Senate Minority Leader Chuck Schumer, who regularly strategizes with Trump-state Democrats over their re-election strategies, is giving them some space. Asked Oct. 31 whether he would "whip" all Senate Democrats to oppose the broader GOP tax plan that emerges, Schumer said that "everybody is going to make up their own mind."
Before it's here, it's on the Bloomberg Terminal.
LEARN MORE