technology
Tencent Sizzling Hot E-Books IPO Presages More Mega-Spinoffs
By and
Anything apart from core social media will be fair game

The music arm is already said to be considering a 2018 float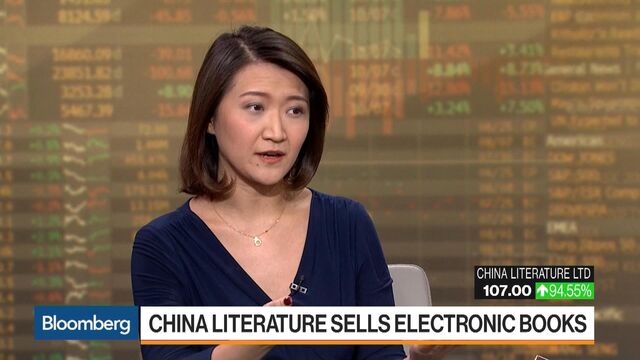 China Literature Ltd.'s red-hot debut may spur parent Tencent Holdings Ltd. to consider spinning off other parts of a $470 billion empire that spans everything from movies to music streaming.
Tencent's e-books business soared almost 90 percent on its debut, Hong Kong's largest tech coming-out party since 2007. That marked the best first-day performance this year among IPOs of $500 million or more, and it kept up the momentum Thursday by gaining another 1.6 percent. That suggests strong demand for businesses spawned within Tencent -- some with multi-billion dollar price tags.
It's already said to be fielding pitches from banks to handle an IPO for its music arm that could raise at least $1 billion next year. The extraordinary reception for its online books unit could now spur China's largest social media conglomerate to float other businesses to raise cash, unlock value for shareholders and cultivate independent divisions that can expand and carve out new markets on their own.
"The units could have more freedom to look for strategic partnerships, and attract investment. It also make the units less Tencent-centric, opening more chances for collaboration," said Li Yujie, an analyst with RHB Research Institute Sdn in Hong Kong. "Apart from what it considers its core business -- social network, games, advertising and payments -- everything else is possible."
Tencent remains confined mostly to China. But it's again shown its ambitions stretch well beyond its home country by acquiring a stake of about 12 percent in Snap Inc. -- the latest in a string of overseas deals in past years. Snap -- the U.S. social media company struggling to compete with Facebook Inc. -- gets a valuable ally in a country where its disappearing message app doesn't work due to government restrictions. Tencent ended Thursday up 0.6 percent.
Read More: Tencent Dominates in China. Next Challenge Is Rest of the World

It's unclear what Tencent has in mind with Snap over the longer term. But the company has a tradition of encouraging independence, pushing its own teams to split off and work on side projects in the hope that some will hit paydirt. It's similar to Google's longstanding 20-percent rule, in which engineers take a day a week to work on personal pet projects, except much more competitive. That formula's produced notable successes: the now-ubiquitous WeChat messaging service sprang from a team of just a few people and initially cannibalized Tencent's then-dominant QQ for computers.
Some of the first iterations of China Literature, in which Tencent retains a majority stake, sprang from internal skunkworks that were then combined. The country's biggest publisher of e-books, which espouses a model similar to Amazon.com Inc.'s Kindle Store, will now use its IPO proceeds to invest more on analyzing user preferences, work with Tencent's WeChat and QQ messaging services to make reading more sociable, and convert its most popular titles into anime, movies or games.
China Literature -- which raised HK$8.3 billion ($1.1 billion) in its IPO -- feeds into Tencent's broader ambition to create a technology and entertainment colossus. The Shenzhen-based company became China's second-biggest technology company on the strength of its WeChat messaging app, which since has morphed into a portal for shopping, banking, videos and gaming.
To that end, it will select some content, and co-invest or co-produce movies and anime series, co-Chief Executive Officer Liang Xiaodong told Bloomberg Television. He added that his company is closely working with its parent's film and video units.
"User demand for content is getting very strong, especially original material," Liang said. "Our content can easily be converted into movies and games to maximize coverage."
Snapchat Could Use Some Friends. Is Tencent One of Them?: Gadfly
Investors had signaled their approval for China Literature's strategy even before the first-day spike. The company attracted strong interest from retail investors, who placed orders for more than 600 times the stock available to them in the IPO, people with knowledge of the matter said earlier. Morgan Stanley, Bank of America Corp., Credit Suisse Group AG, China International Capital Corp. and JPMorgan Chase & Co. were joint global coordinators of the offering.
Its stellar first-day showing conferred a value of almost $12 billion on the debutante and also made a fortune for co-CEO Wu Wenhui. His roughly 3 percent of the company, according to data compiled by Bloomberg, is now worth more than $350 million.
IPO Fever Hits Hong Kong Market as 1-in-20 People Try to Buy (1)
Created through the merger of Tencent's online literature business with Carlyle Group LP-backed Cloudary Corp, China Literature had profit of 213.5 million yuan ($32 million) in the first half of this year, compared with a 2.4 million yuan loss for the same period in 2016, according to its prospectus. The company had 9.6 million works and 6.4 million writers as of June 30, and customers can pay for an entire book or buy a few chapters at a time to see if they want to keep reading.
"Demand is especially strong since Hong Kong is in a bull market," said Paul Pong, managing director at Pegasus Fund Managers Ltd. in Hong Kong. "And there are not many profitable tech companies, so there's a lot of upside."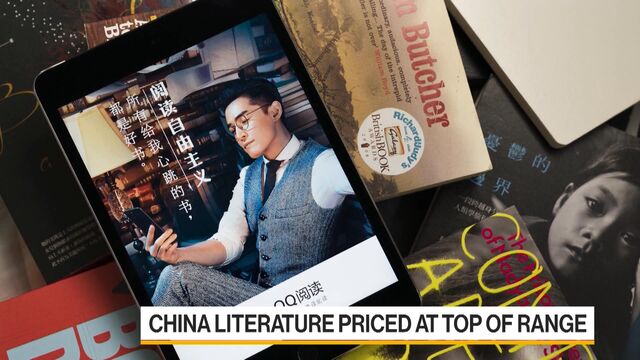 Before it's here, it's on the Bloomberg Terminal.
LEARN MORE